Celestron's CGEM is one of Celestron's first ventures into modern Computerised German Equatorial Mounts (Hence the name CGEM) and is the older brother of Celestron's Advanced VX Mount, a smaller Celestron Equatorial mount.
The CGEM is a mount for use with visual observing and astrophotography. It is commonly recognized as a "Clone" or even contender of the Skywatcher NEQ6, but it does have some differences making it a better mount for visual observing, at the cost of performance for astrophotography. Celestron's customer support is excellent, and fast, making this an attractive choice if you want to be up and running again quickly if something goes wrong.
Technical Specs
The CGEM mount has a stated weight capacity of 40 lbs or 18 kilograms, although this number is difficult to interpret sometimes, as the manufacturers of these mounts are not very specific as to their intended usage. If you are doing visual, feel free to load it up to the limit or even exceed it by a few kgs by adding more counterweights, typically as the errors in positioning are too small to notice.
However, when you are doing more accurate tasks, specifically astrophotography, the mount's precision of tracking is more critical as the images you take will show streaking right away. Adding more weight to the mount makes positioning errors larger.
For this reason, I recommend using a maximum of ⅔ the stated capacity for astrophotography.
The older CGEM mount only accepts the wide or losmandy style dovetails (telescope attachment rails) which is something to consider when you purchase the mount. You could purchase an aftermarket adaptor for the mount, or change out the narrow vixen style dovetail found on some telescopes for the wide dovetail. I generally recommend the losmandy style dovetails as they are more stable due to the larger surface area to grip on to.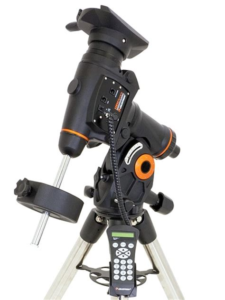 The CGEM also comes with a Nexstar hand control, which is highly praised among visual astronomers but I will discuss that later in the visual section. The tripod included is the sturdy NEQ6 style tripod, which I have no complaints with. The legs are extendable which is useful for visual if the mount is a bit short for your telescope.
The problem with having such a sturdy mount is that they can get quite heavy. This mount is no exception, and just the head of the mount (not including tripod) weighs 18kg or 40 lbs, with the tripod alone weighing 11 kilos or 24 pounds. This is something to consider if you have health problems that make you unable to lift heavy objects. You can set the tripod up first and then place the mount head-on, which can alleviate some of the weight concerns.
The CGEM for Visual
This mount is an excellent performer for visual. Not only can it take a fair amount of weight it can also track quite well at low powers. The hand controller, the Nexstar+, is much improved compared to Skywatcher and Orion alternatives, because of its easy-to-understand and use interface, built-in polar alignment features, and its internal clock.
Along with these quality features, the hand control lights up at night, has 9 slew rates for the mount, and has over 40,000 targets in its database, to ensure you never run out of targets to find.
What this means for visual use is that you will have almost no troubles, apart from the heavy mount and tripod. You will be able to polar align easily with built-in software to boot, which requires no craning your neck to view through the polar scope and no laptop to take with you. The hand controller also has a built-in time clock, meaning you will not have to enter the date and time every time you use the mount.
The CGEM for Astrophotography
This mount, while being a great performer in visual starts to show its weaknesses and quality issues when you use it for high accuracy imaging. I have personally used this mount for imaging for over two years, and know the struggle of using this mount to take photos.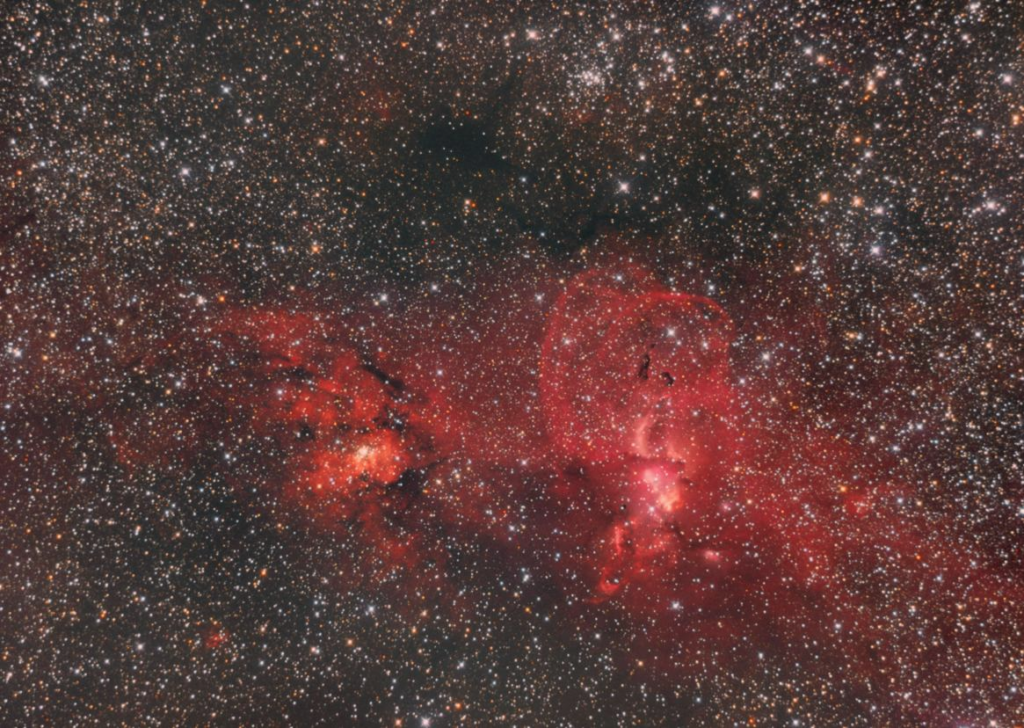 Let's start from the bottom up with minor annoyances to major issues and then talk about some of the good things.
For starters, even if this may not be the mounts fault, it has no EQMOD support, which is a handy feature for astrophotographers using Synscan based mounts. The mount does somewhat alleviate this issue, because the hand controller has a mini USB port, making it easy to connect to if you want to control the mount from the computer.
The mount does not have any official PC-based support yet, however, you can still connect fine with ASCOM, an open-source mount control software meaning you can guide and slew like any other ASCOM compliant mount from a pc or laptop.
You must connect through the hand controller. This means that you have to power the mount on, go through entering date and time if you do not have the time clock enabled, and then you have to align the mount's pointing.

Note that you must always polar align the mount, but generally, if the mount is well polar aligned, the pointing system can predict where it is using the quick align feature in the software instead of star alignment.

The mount's azimuth alignment (left-right) is quite stiff when you are trying to polar align, however generally you can still get a good enough alignment with the celestial pole.
Now, onto a major issue.
The mount being a relatively inexpensive performer has some issues that are found inside the mount. These issues are magnified when guiding the mount because you can see exactly what is going wrong. The issues are within the gears themselves; the motors and their cheap plastic gearboxes can and almost always will produce large periodic error, meaning that as the gears go through a full rotation, various issues in the gears will cause the mounts tracking to speed up or slow down in a repeating pattern.
This is observed when you are using the mount guided and unguided. The issue is so bad when you are not guiding the mount that even with a perfect polar alignment you can practically not expose longer than one minute without the images being streaked. Guiding takes care of most of these large-scale issues, as they are easy for the software to predict but another issue is with backlash in the gears.
Issues when guiding the mount
The CGEM's gears are typically loosely aligned with one another, some of these gears are adjustable which can remove a lot of slop or backlash, this is seen when you are trying to move the mount in a direction, but the gears take a few seconds to clear the gap between teeth. The gearboxes on the motors are not adjustable so this means that the mount will always have some inherent errors when guiding the mount that can not be removed.
You can see this when autoguiding, as the mount will typically take a few seconds to respond to guide commands. This can show as streaked images, which can completely ruin longer exposures.
For this reason, I do not recommend using over 2 or 3 minute exposures with the CGEM. Yet even with these problems, you can produce some excellent images with this mount if you persevere, and are willing to throw out some images, but there are definitely major issues to overcome if you are serious about imaging with this mount.
Conclusion
In conclusion, this mount is an excellent performer to use for visual with a payload around 40lb/18kg or less and if you can find it at a discount or used for a good price, I would definitely recommend the mount if you are doing solely visual and occasionally dabble in astrophotography. You will find that the mount is very easy to use and tracks well at lower powers.
If you are an astrophotographer interested in this mount, unless you have a focal length of under 750mm I would recommend that you steer clear of this mount because of the numerous quality and tolerance issues found. You instead in my opinion would be better off with a mount such as the NEQ6 or EQ6-r in this price and weight capacity range.