Optical Tube
The Celestron Astro Fi 90 is a 90mm (3.5") f/10 achromatic doublet refractor telescope with a 910mm focal length. At f/10 and this fairly small aperture, chromatic aberration (which occurs in all achromatic refractors) is moderate, with it only appearing around the brightest targets such as the Moon, Venus, Jupiter, and bright stars. The scope works well up to its theoretical limit of 175x magnification or so. However, a 90mm telescope is really small and not capable of showing you nearly as much as the 6" telescopes offered at the Astro Fi 90's price range, which have about double the resolution and triple the light collecting area for sharper and brighter views.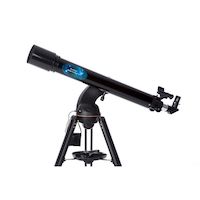 The focuser attached to the back of the Astro Fi 90 is a 1.25" rack-and-pinion unit, which is fortunately all-metal in construction. It has some play and slop in its movements and certainly isn't the best, but at f/10, you don't need a very precise focuser, and even the heaviest 1.25" eyepieces shouldn't put too much of a strain on it. As with many smaller refractors, a standard Vixen/Synta finder scope bracket/shoe is integrated as a slot in the side of the focuser by default.
To attach to the Astro-Fi or other astronomical telescope mounts, the Astro Fi 90 has a Vixen-style dovetail rail bolted directly to the side of the tube. Most high-quality refractors have the dovetail attached to a pair of removable tube rings, which would allow you to rotate the tube to adjust the eyepiece angle as well as slide it forward and backward for balance; the Astro Fi 90's lack of this feature is a bit of a disappointment.
Accessories
The Celestron Astro Fi 90 refractor telescope includes a full set of 1.25" accessories for viewing, consisting of a high-quality prism star diagonal and two Kellner eyepieces: a 25mm (36x) and a 10mm (91x). These eyepieces have glass optics, all-metal housings, and an apparent field of view of about 50 degrees. The f/10 focal ratio of the Astro Fi 90 is forgiving of cheap eyepiece designs such as the Kellner, and the provided units work well. However, at the price point the Astro Fi telescopes occupy, it's typically expected of manufacturers to include Plossl or wide-angle eyepieces, which are a bit higher quality.
The Astro Fi 90 also comes with a standard "StarPointer" red dot finder for aligning the telescope's Astro Fi GoTo mount on a few stars during setup. It is easily interchangeable with another finder should the need arise, thanks to its universal base attachment.
The Celestron Astro Fi Mount
The Celestron Astro Fi mount is based on the older Celestron NexStar GT, SLT, and SkyProdigy mounts and looks very similar, with the same basic tripod hub and mount head along with an extruded aluminum tripod. The aluminum tripod, despite its cheapness, is a lot steadier than the tiny steel legs provided with the NexStar SLT mount and is rock solid with the 90mm Astro Fi optical tube. The Astro Fi mount also features better internal gearing than the SLT and an accessory tray with both a space for your phone or other accessories along with an eyepiece rack, in contrast to the simple sheet metal accessory trays or too-small eyepiece racks attached to many telescope tripods.
The Astro Fi mount is a simple alt-azimuth design that moves up-down and left-right and runs off a set of D batteries with the provided battery pack or a separate DC power source (which is preferred if possible). After assembling and leveling its tripod and attaching the telescope's optical tube, you power on the Astro Fi mount and connect to its WiFi network with your smartphone or tablet.
Using either the Celestron SkyPortal app or another app like SkySafari, you then align the mount/telescope on a few bright stars, and you're ready to go. The app will allow you to select any of the thousands of stars, deep-sky objects, and from the Moon, planets, and asteroids that are currently visible. In addition to being a simpler interface than a hand controller, using your device to control the mount allows it to obtain accurate time and location data, which you'd otherwise have to input yourself. If your device becomes suddenly disconnected from the mount's WiFi network, the mount will continue tracking and maintaining its alignment information, so there's no need to worry about walking away from the telescope.
Should I buy a Used Celestron Astro Fi 90?
A used Celestron Astro Fi 90 Refractor can be a decent scope, but units early in the production of the Astro Fi series tend to have issues with maintaining a WiFi connection to a device and other software issues. If you are purchasing one, make sure that it has been successfully used by the previous unit or that it is from a reputable reseller. Expect to pay less, even for a like-new unit, due to the lack of a warranty or refunds.
Refracting telescopes are extremely resilient, and there's little that can be damaged besides fungus or cracks/chips on the objective lens, which are fairly obvious upon expectation and should be avoided.
Alternative Recommendations
The Celestron Astro Fi 90 refractor telescope is similar in price to much larger and more expensive telescopes on both computerized and manual mounts. Here are a few we would recommend instead:
Under £425
£425–£500
The StellaLyra 8"/Zhumell Z8/Orion SkyLine 8 offers over double the aperture of the Astro Fi 90 along with a sturdy full-sized Dobsonian mount and various high-quality included features and accessories.
The Ursa Major 8 Classic Dobsonian has a full-sized Dobsonian mount and 2" Crayford focuser, and is more economical than larger scopes (albeit more expensive than similarly capable 6" f/5 tabletop instruments).
The Celestron Astro Fi 130 offers more aperture and a wider achievable field of view than the Astro Fi 90, along with sharing the Astro-Fi mount design.
Aftermarket Accessory Recommendations
The two Kellner eyepieces included with the Astro Fi 90 are enough to start your stargazing journey, and the provided 1.25" star diagonal is thankfully pretty high quality. However, a lower magnification, longer focal length ocular than the included 25mm eyepiece, such as a 32mm Plossl (28x), will provide a wider field of view, while a 6mm goldline or redline eyepiece offers 152x, about the most you can use with a 90mm aperture telescope. A 15mm redline or goldline eyepiece provides a medium power of 61x, right between the stock 25mm and 10mm eyepieces.
You'll also want some sort of rechargeable power supply to avoid burning through a costly pile of AA batteries or having to worry about a power cord, which can limit where you set up or become disconnected from your telescope, as well as of course, the possibility that the cord may wrap around it and eventually unplug itself as you slew the Astro Fi 90 around the sky. A generic TalentCell battery bank or Celestron PowerTank Lithium would be our top picks.
What can you see with Celestron Astro Fi 90 Telescope?
The fairly long focal length of the Celestron Astro Fi 90 refractor, combined with its small aperture, do limit your capabilities in viewing deep-sky objects. However, the Astro Fi 90 can do a good job on brighter and larger open clusters like the Pleiades (M45) and Double Cluster, along with various smaller open clusters such as M35 and M11. You can't resolve globular clusters or most planetary nebulae besides the Dumbbell (M27) and perhaps the Ring (M57), however. Galaxies are, for the most part, dim or entirely invisible smudges at best, though you may be able to see dust lanes in the Andromeda Galaxy (M31) under dark skies and spot a few of the brightest galaxy groups like the Virgo Cluster. Double stars can be split down to the telescope's theoretical resolution limit of 1.3 arc seconds or so on a night of good seeing, and the Astro Fi mount will help you find thousands of them.
The Astro Fi 90 does an okay job on the Moon and planets, though it's severely limited in resolving power by its tiny aperture and chromatic aberration. You should be able to see Mercury's phases, though it may be difficult. Venus' phases and the polar ice cap on Mars are obvious; Mars shows some dark markings at high magnifications when it is at its closest to us. Tiny details on the Moon can be resolved down to only a few miles, even on a sub-par night of viewing. You can also see Jupiter's cloud bands, the Great Red Spot, and the four Galilean moons; the moons can just barely be resolved during transits, though their shadows are easier to pick out due to their high contrast. Saturn's rings can be seen along with the Cassini Division in them and a handful of moons, while Uranus and Neptune are featureless tiny orbs; a much larger telescope is required to see their moons or Pluto.
Astrophotography Capabilities
Deep-sky astrophotography with the Celestron Astro Fi 90 is futile thanks to its long focal ratio, chromatic aberration, and completely inadequate mechanics in the focuser and mount. You can shoot the planets with a suitable camera and Barlow lens, but 90 mm of aperture just isn't enough resolution to be really useful for such a task, and the scope's chromatic aberration won't help. Besides smartphone astrophotography, there's not much point in bothering with trying to take pictures with the Astro Fi 90.