The Optical Tube
The NexStar 6SLT optical tube is simply a repainted Celestron C6 XLT, which is a 6″ (150mm) f/10 Schmidt-Cassegrain telescope with a 1500mm focal length. Offering a significant improvement in light-gathering capacity and resolution compared to the smaller C5 XLT also sold in the NexStar SLT configuration, as well as far more consistent quality control compared to the C5 for sharper images and better performance on top of the aperture increase, the C6 has become a firm favourite among experienced astronomers who appreciate its "grab n' go" convenience.
Like other catadioptric telescopes, the C6 XLT utilises a knob located at the rear of the instrument to focus the telescope by moving the primary mirror back and forth within the tube, adjusting the position of the focal plane without displacing any accessories attached to the back of the telescope. This mechanism can occasionally cause "image shift" when focusing, which can be particularly troublesome at high magnifications or during astronomical imaging. However, the C6 XLT experiences minimal issues with this, partially due to the modest size and weight of the primary mirror.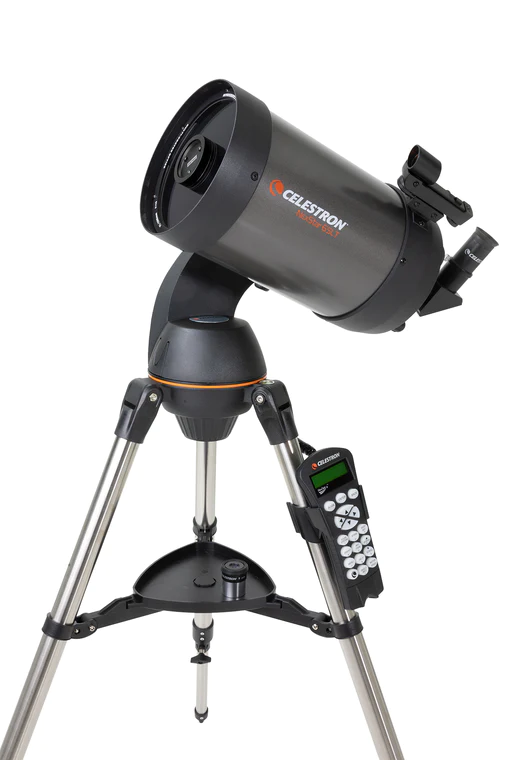 Schmidt-Cassegrain telescopes, such as the C6 XLT, require regular collimation by adjusting the secondary mirror. Fortunately, collimating the C6 XLT is a relatively quick and straightforward procedure, and it won't need to be done every time the telescope is set up, or really much at all once you've got it right. Contrary to what some people may suggest, this process is neither intimidating nor overly complicated and certainly does not require bringing the telescope to the manufacturer or an experienced technician. To collimate the C6 XLT, one simply adjusts three small screws on the secondary mirror housing while aiming at a bright star – arguably, this is an easier task than collimating a Newtonian telescope. For more information, consult our collimation guide.
The C6 XLT features a standard threaded port at its rear, which accommodates Schmidt-Cassegrain accessories and adaptors, such as an f/6.3 reducer. However, the nature of the internal baffling in the C6 XLT means that vignetting issues may arise if an f/6.3 reducer is used with a larger camera sensor or for visual purposes. The same issue occurs if one attempts to use a 2-inch diagonal. As a result, the true field of view of the C6 XLT is limited to just over 1 degree in the sky—a rather narrow range for a 6″ instrument, particularly when compared to the possibilities of a 6″ f/5 reflector with a true 2″ focuser.
To attach to the NexStar SLT mount, the C6 XLT uses a standard Vixen-style dovetail bar, enabling it to attach to almost any other astronomical telescope mount without tools.
Accessories
The NexStar 6SLT includes a decent accessory kit. For starters, there's a 1.25″ visual back, which attaches to the rear of the tube and accommodates a 1.25″ prism star diagonal. The supplied prism diagonal is of exceptional quality, featuring multi-coated optics and exhibiting no noticeable vignetting or significant glare issues, unlike less expensive Amici units.
Regarding eyepieces, the NexStar 6SLT comes with two 1.25″ Kellner oculars: a 25mm offering 60x magnification and a 10mm providing 150x magnification. Both eyepieces possess all-metal housings, a 50-degree apparent field of view, and glass lenses. However, they lack eyeguards, and the 10mm eyepiece has somewhat limited eye relief. In terms of sharpness, they are comparable to Plossl eyepieces at the NexStar 6SLT's relatively lenient f/10 focal ratio. Nevertheless, you may wish to supplement or replace them entirely with higher-quality aftermarket eyepieces of various focal lengths.
For a finder scope, the NexStar 6SLT is equipped with Celestron's standard, generic "StarPointer" red dot finder. Its primary function is to align the telescope and SLT mount with alignment stars during the setup process. The finder attaches using a standard interchangeable Synta/Vixen-style foot, enabling you to swap in a different finder if desired. However, there is little reason to do so with a GoTo telescope.
The NexStar SLT Mount
The Celestron NexStar SLT mount is a rather straightforward alt-azimuth GoTo mount, capable of moving vertically and horizontally. It is controlled with a Celestron NexStar+ handset, which is a lot less intuitive than an app-based interface as with many newer GoTo telescopes but it does the job. To operate the NexStar SLT, you input the time, date, and your geographical location, followed by aligning the telescope with two or three bright stars. The mount can then calculate the positions of celestial objects across the sky and direct the telescope towards any chosen target. This process is quite standard for the majority of GoTo mounts. The SLT mount is equipped with a Vixen dovetail saddle, allowing for the easy interchange of telescopes with Vixen dovetail bars, as long as they do not exceed the mount's weight capacity (like the C6 XLT does) or collide with the base.
Whilst the SLT mount appears to be well-constructed and functions adequately in most cases, its primary shortcoming lies in the slender steel tripod legs provided. These legs are prone to twisting and buckling when extended to a comfortable height, leading to a decrease in the accuracy of the telescope's pointing. With the C6 XLT optical tube, it is outright unstable and inaccurate to the point of causing a frustrating user experience due to the frequent vibrations or imprecise GoTos that you will experience. This is our biggest criticism of this scope. Although it is possible to address this issue with DIY solutions, the Astro Fi 6" SCT model is around the same price as the SLT and fixes this issue as well as featuring an improve Wi-Fi controller interface instead of the NexStar+ hand controller.
Should I buy a Used NexStar 6SLT?
A used NexStar 6SLT is still going to be a wobbly mess, but you could use the NexStar SLT mount with a different telescope and the C6 XLT atop a different mount. Be sure that the mount works and the C6 XLT optical tube is free of corrosion or other damage to the optics; a cracked or broken corrector plate cannot be replaced without also replacing the rest of the telescope's optics, while corrosion to the mirrors requires recoating which is not cost-effective at this size.
Alternative Recommendations
The Celestron NexStar 6SLT isn't a telescope we recommend when multiple other mounting options exist for the C6 XLT optical tube that do a better job holding it steady, in addition to various 6", 8", and 10" Dobsonians with superior capabilities. Here are some of our top alternative picks:
Under £800
Over £800
The Celestron StarSense Explorer 10″ Dobsonian offers around triple the light-gathering power and one-and-a-half times the resolution of the NexStar 6SLT. The base is relatively lightweight for a 10″ Dobsonian, and transportation is facilitated by cutouts in the base and handles on the tube. Although this telescope comes with minimal accessories apart from the StarSense Explorer technology, it provides excellent value in terms of aperture and portability for its price.
The Celestron NexStar 6SE utilises the same C6 XLT telescope optical tube as the NexStar 6SLT, and largely has the same features. However, the mount is considerably sturdier and better suited for this telescope.
The Sky-Watcher Skyliner 250P FlexTube GoTo Dobsonian is a monster 10" GoTo Dobsonian, featuring a rock-solid mount, all the performance to be expected of 10" aperture, FreedomFind encoders to allow for manual aiming, and of course the Sky-Watcher FlexTube collapsible tube system to slightly improve portability.
Aftermarket Accessory Recommendations
The included diagonal and pair of eyepieces provided with the NexStar 6SLT are satisfactory, but you'll want to purchase a few additional accessories and at least a couple of extra eyepieces to achieve the most enjoyable experience possible. A dew shield is essential for the Astro Fi 6″ SCT, as it helps to reduce glare from nearby light sources entering the telescope, while also delaying frost or dew formation on the NexStar 6SLT's front corrector plate and preventing pollen, dirt, and dust accumulation. These factors can harm the fragile corrector plate and its anti-reflection coatings over time, as well as ruin your view with blurriness and glare.
A 1.25″ 32mm Plossl eyepiece for 47x with the NexStar 6SLT offers a slightly wider field of view and lower magnification than the included 25mm Kellner, making it more suitable for observing deep-sky objects. A 2″ star diagonal will vignette with the NexStar 6SLT, as will an f/6.3 reducer and low-power eyepieces, so there is little reason to obtain either. For medium-high power, we recommend a 15mm redline/goldline (100x) eyepiece. For higher magnification, while not strictly necessary, a 9mm redline/goldline (167x) eyepiece is sharper, provides a wider field of view, and is more comfortable to use than the NexStar 6SLT's standard 10mm Kellner ocular.
A 7mm focal length eyepiece, such as a 7mm UWA or 7mm planetary (214x), delivers magnification near the limit of what you can typically expect to find useful with the NexStar 6SLT for the Moon, planets, and double stars.
Although potentially a tad expensive and limited in practicality, a UHC nebula filter can be attached to any of your eyepieces and enhances views of nebulae with the NexStar 6SLT, especially if you predominantly observe from light-polluted skies. While the scope's limited field of view is not ideal for viewing enormous objects like the Veil Nebula, the filter assists in observing smaller objects, such as, most notably, the Orion Nebula, by increasing their contrast and dimming the surrounding sky background.
You will almost certainly require a power supply, such as the Celestron PowerTank Lithium or a TalentCell power bank, for use with the NexStar 6SLT instead of costly disposable batteries or unwieldy extension cords.

Lastly, vibration suppression bags combined with a water jug, sand bags or metal weights to hold down the NexStar 6SLT can somewhat improve stability and are certainly worth the investment if you are unable to avoid it or exchange it for a different telescope without stability issues.
What can you see?
A 6" catadioptric telescope like the NexStar 6SLT may not compete with a wide-field 6″ f/5 reflector, nor an equivalently-priced 8″, 10″, or even 12″ reflector in terms of deep-sky observing capabilities, particularly under light-polluted skies, which can restrict the variety of celestial objects and details visible at any aperture. The limited field of view attainable with the NexStar 6SLT, due to its 1500mm focal length and solely 1.25″ accessories, also hinders the observation of the largest open star clusters and nebulae.
Nevertheless, even under suboptimal conditions using the NexStar 6SLT, one can still appreciate views of medium-sized clusters such as M35 and M38 and begin to discern the brightest star clusters, like M13, as individual stars. Planetary nebulae, like the Cat's Eye and Blinking Planetary nebulae, display delicate details and greenish-blue tinges, alongside the more expansive, colourless Ring (M57) and the colossal Dumbbell (M27). A UHC nebula filter aids in emphasising planetary nebulae at lower magnifications before inspecting them more meticulously at high power, and it enhances contrast on nebulae such as Orion (M42). These nebulae radiate brilliantly with a filter and/or dark skies, but can also be observed without a filter even from relatively light-polluted locations. Thousands of binary stars can be separated with the NexStar 6SLT's impeccably sharp optics if you can find them in the hand controller and keep the scope from wobbling around.
Dark skies are absolutely indispensable for observing galaxies, and the NexStar 6SLT can exhibit high-contrast dust lanes in galaxies like M64, M82, and M104, and starts to unveil suggestions of not-quite-resolved spiral arms in galaxies such as M51 at low magnification. Numerous galaxy groups and clusters can also be observed, with the Virgo Cluster of galaxies being a prime example, featuring dozens of constituent galaxies.
The NexStar 6SLT's top-notch optics and extended focal length render it suitable for planetary observation, again, only provided if you can keep the telescope stable. Accurate collimation, allowing the telescope to acclimate to ambient nighttime temperatures for a minimum of 15-30 minutes, and steady atmospheric conditions are also crucial for achieving sharp views of planets, lunar details, and other compact targets like closely-spaced double stars. The phases of Mercury and Venus can be easily distinguished, as can the polar ice caps and dark surface features on Mars when it is closest to Earth, and a wealth of fine details, such as craterlets, mountains, and ridges on the Moon.
The NexStar 6SLT can also reveal the cloud belts, the Great Red Spot, and other atmospheric characteristics of Jupiter, in addition to the disks and shadows of its four prominent moons, the Galilean moons, as they transit across the face of the enormous planet. The rings of Saturn, the Cassini Division within them, Saturn's own subtle cloud belts, and a few moons can be viewed as well. The NexStar 6SLT lacks the light-collecting capacity to display the moons of Uranus and Neptune and will struggle to clearly resolve the disks of either ice giant, while the faintness of Pluto keeps it beyond the reach of a 6″ telescope.
Astrophotography
Seeing as it's pretty inadequate for holding the C6 XLT optical tube for even casual visual observation, it's no surprise that the NexStar SLT mount is neither precise, stable, nor well-constructed enough to support deep-sky astrophotography, and it is, of course, an alt-azimuth mount. The C6 XLT optical tube can be utilised with a reducer or HyperStar conversion atop a robust equatorial mount for deep-sky astrophotography. If you can manage to steady it a bit more, the NexStar 6SLT works for lunar and planetary imaging quite easily – just a CMOS camera, laptop, and a 2-3x Barlow lens are all that's needed to capture decent images, although a larger aperture instrument possesses greater resolving power than the relatively modest C6 XLT optical tube.