The Evolution of C8, The Optical Tube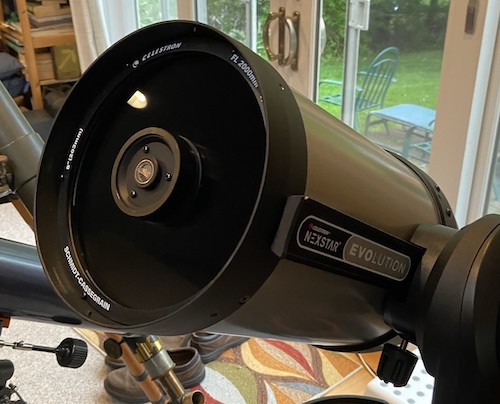 As the name of the telescope suggests, the NexStar Evolution 8 is an evolution from the older line of Celestron telescopes. The Evolution 8 is the latest of Celestron's 8" Schmidt-Cassegrains known as the C8, with design roots tracing back to the 1960s and the original orange-tube C8 having debuted in 1970. Apart from updates to the coatings and manufacturing process, the C8 has changed little in terms of performance or design in the past 50 years – though Celestron does sell an EdgeHD C8 in various incarnations that have improved field flattening for astrophotography and ventilation holes. The Evolution 8 is available with an EdgeHD upgrade and a StarSense autoalign bundle, but we don't see a reason to shell out the funds – the EdgeHD won't perform any differently for visual use and the StarSense is unnecessary.
Advantages of C8
The C8 is an SCT, or Schmidt-Cassegrain telescope. The SCT telescope uses a corrector plate in the front, an extremely fast f/2 primary, and a convex secondary mirror. The advantage of an SCT telescope is that it is extremely short thanks to the fast primary mirror, but the actual focal ratio is f/10 after reflecting off of the secondary mirror.
The Evolution 8 is, as the name suggests, an 8" (200mm) telescope. This is an ideal size for beginning astronomers or those who want something portable yet with a decent aperture. 8 inches is not likely to reveal great detail on dimmer objects, especially galaxies, so this telescope is more suited to nebulae, star clusters, planets, etc., which are all relatively bright objects.
The telescope has a focal ratio of f/10, making the focal length 2000 mm. This is a very long focal length for such a small telescope and is a great feature for planetary observing. This can make it tricky at times for wide-field observing. But for most targets, this is not a problem.
The C8 has built-in HyperStar compatibility. This means that if you purchase Starizona's Hyperstar corrector, you can remove the secondary mirror and put the Hyperstar in its place to image at f/2 with a cooled astrophotography camera. Not all cameras will work with this configuration, however; monochrome cameras with filter wheels won't focus, and you want to be careful not to obstruct the aperture with a large camera housing. Additionally, a HyperStar costs more than the entire telescope and isn't that useful unless you put the C8 on an equatorial mount.
The Included Medium-Quality Eyepieces
The Celestron NexStar Evolution 8 includes two Plossl eyepieces, a 40mm and a 12.5mm. These are decent, but being included eyepieces, they are not of great quality. Being Plossls, they have a small apparent field of view, which means you will only see a small circle when looking through the eyepiece. Eyepieces with a larger field of view are typically more immersive, as the area filled with light is larger and takes up more of your sight. The included eyepieces may be able to get you started observing, but you will most likely want to upgrade fairly soon after you purchase the scope.
A Mount Well Made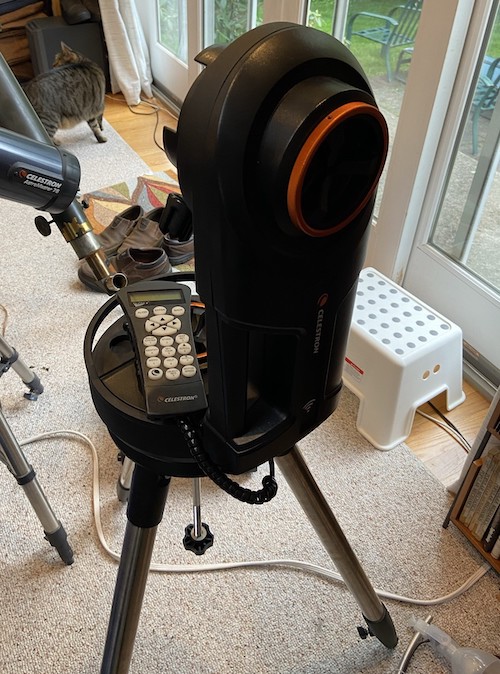 The NexStar Evolution 8, as with all the NexStar telescopes, is meant for use by visual astronomers. As the mount is an Altitude-Azimuth (Alt/Az), you will most likely have a difficult time trying to take images with it due to the effects of field rotation. For visual use, Alt-Az telescopes are favoured because of their ease of use and simple directional pointing. The Alt-Az type mount also does not require polar alignment and only requires a 2 or 3-star alignment to be able to use the telescope, slew, and track.
RECOMMENDED BUY FOR AWESOME CONNECTIVITY FUNCTIONS
The mount features built-in Wi-Fi. This is one of the only all-in-one telescope systems to be able to be slewed from wifi without an adaptor! What this means is that you will have an incredibly easy time being able to connect to the mount without any troubles or messing around with adapters or complicated software. You can control the mount from any mobile device that has wifi, using Celestron's app, SkyPortal. SkyPortal is based on the awesome SkySafari app, which we highly recommend, and as such it includes 100,000 targets, plus the ability to slew to any point in the sky, while also being tied in with the excellent planetarium software.
The mount includes a lithium battery inside, which means there is no need for you to buy a typically very expensive external battery, and it will last far longer than many of the lead-acid batteries sold for powering telescopes. The battery can also charge USB devices, which can be useful if your device does not last the whole night.
The Nexstar+ hand controller includes over 40,000 objects in its database and an internal time clock, which means that you do not have to enter the time and date every time you start up the mount if you choose to enable it. The pointing accuracy of the mount after a 3-star alignment is also excellent. The controller includes 9 slew rates for intricate and accurate slewing and pointing, which means you can go from rate 9, which moves the mount several degrees per second to 1, moving at half the speed of the stars.
Should I buy a used NexStar Evolution 8?
A used Evolution would be a great telescope if the price is reasonable. Be sure to check that the built-in battery, WiFi, and, of course, the electronics work. Since these telescopes haven't been around for very long, there's little concern about any major electronic failures, but as time goes on, you should be more wary of components, particularly the battery, ceasing to work on older models.
Alternative Recommendation
Under £800
The StellaLyra 10″ f/5 Dobsonian provides slightly greater light gathering and resolving power compared to the NexStar Evolution 8, while maintaining affordability and including a range of quality accessories. The 8″ StellaLyra Dobsonian is almost as capable, but with minimal differences in weight and size, the 10″ model delivers more performance for a small additional investment.
The Celestron StarSense Explorer 8″ Dobsonian simplifies aiming with its StarSense Explorer technology, and its lightweight Dobsonian base is easy to set up. The performance, optical quality, and views at the eyepiece are comparable to the NexStar Evolution 8 at a significantly lower price, and the shorter focal length of 1200mm makes it easier to get a wide field of view more suitable for looking at the largest nebulae and star clusters.
The Sky-Watcher Virtuoso GTi 150P may not be as powerful as the NexStar Evolution 8, but it costs considerably less and still includes fully motorized GoTo and tracking controlled via WiFi, a compact design with a collapsible tube, and an impressive 6″ aperture for observing both Solar System and deep sky objects. It can also be aimed manually, unlike the Celestron NexStar telescopes, thanks to its FreedomFind encoders, while the stripped-down Heritage 150P model is identical apart from a lack of motorized aiming/tracking capabilities.
£800-£1200
The Celestron StarSense Explorer 10″ Dobsonian boasts superior light-gathering and resolving power to the NexStar Evolution 8 thanks to its larger aperture, while also enabling a wider possible field of view than the Evolution 8 thanks to its shorter 1200mm focal length The StarSense Explorer technology allows for quick and easy aiming at deep-sky objects without external power or motors and setup that takes just econds. The scope's lightweight Dobsonian base ensures effortless transportation and setup while also offering a smooth and sturdy platform for this capable and cost-effective scope, too.
The Celestron NexStar 6SE may be less capable than the NexStar Evolution 8, but it is more affordable and compact, making it a suitable choice for air travel and fans of the Schmidt-Cassegrain design. However, we recommend avoiding the larger NexStar 8SE model, as its size renders the mount/tripod unstable.
Over £2000
The Celestron Advanced VX 8" SCT utilizes the same C8 XLT optical tube as the NexStar Evolution 8, but mounted atop the Celestron Advanced VX mount. The Advanced VX is undersized for supporting deep-sky astrophotography with the C8 XLT, but can be used for the job in conjunction with a smaller imaging telescope.
The Sky-Watcher Explorer 200PDS NEQ6 Pro is an astrophotography-ready 8" Newtonian reflector atop the excellent-quality NEQ6 Pro mount, perfect for those looking for a decent imaging set up right out of the box.
The Sky-Watcher Skyliner 250P FlexTube GoTo Dobsonian includes GoTo and built-in WiFi features while also offering slightly more aperture and a lower price than the NexStar Evolution 8. The FreedomFind encoder system adds the advantage of allowing for manual aiming while the GoTo system is powered on.
The Celestron NexStar Evolution 6 offers the same design and features as the NexStar Evolution 8 but uses the smaller C6 XLT optical tube. Given the choice between the two, the 8" model hardly takes up any additional space, and as such we would probably recommend sticking with the Evolution 8 if your budget permits, or alternatively the 6SE or a larger Dobsonian, but the Evolution 6 is still a first-rate choice.
Aftermarket Accessory Recommendations
The NexStar Evolution 8 is supplied with a reasonably good pair of eyepieces, but to truly optimise this telescope's performance, it's crucial to invest in several key aftermarket components and perhaps a few extra eyepieces. A dew shield is a great starting point, as it diminishes glare from nearby light sources entering the telescope, whilst also decelerating frost or dew accumulation on the NexStar Evolution 8's front corrector plate, and protecting against pollen, dirt, and dust.
We strongly recommend a 2" star diagonal, which enables you to achieve a significantly wider possible field of view with the NexStar Evolution 8 compared to using 1.25" eyepieces alone, more ideal for viewing large deep-sky objects like open star clusters and nebulae. A screw-on dielectric mirror diagonal offers a slightly crisper image than the supplied 1.25" prism while also ensuring a more secure connection between your telescope and eyepieces.
A 38mm PanaView SWA eyepiece or a comparable alternative 2" wide-angle ocular for 53x magnification allows for the broadest possible field of view with the NexStar Evolution 8, perfect for expansive views of large deep-sky objects such as open star clusters. A 16mm UWA (127x) is excellent for medium-high magnification (or a 15mm redline for 135x if you're on a tight budget), with a significantly wider field of view and more comfortable eye relief than the provided Plossl ocular. A 10mm UWA or 9mm redline (203x or 226x) delivers the maximum magnification typically permitted by atmospheric conditions with the NexStar Evolution 8. If you regularly experience exceptionally stable seeing conditions, a 7mm UWA or planetary eyepiece (290x) could also be a worthwhile investment.

Finally, a UHC nebula filter can be attached to your eyepieces (or a 2″ to 1.25″ adapter if you have purchased a 2" diagonal) and improves views of nebulae with the NexStar Evolution 8. Although the scope's limited field of view is not well-suited for vast objects like the Veil Nebula, the filter assists in observing smaller objects such as the Orion or Crab Nebula by enhancing their contrast against the often bright sky background, which is particularly helpful under light-polluted conditions.
What can you see with the Celestron Nexstar Evolution 8?
The Evolution 8's moderate aperture and long focal length mean it's not likely to be the best at deep-sky objects, but it still packs a fair amount of punch. Viewing spiral arms in many of the bright galaxies and beginning to delve into the Herschel 400 list of objects is no problem under dark skies, and even from a city, the Orion Nebula will look magnificent, and you'll be able to resolve the brighter globular clusters like M13 and M22 into swarms of stars. The Moon and planets look great – you'll have no trouble picking out the cloud belts on Jupiter and Saturn, along with their various moons, and, of course, the eclipses and transits of Jupiter's – along with, of course, the phases of Venus and Mercury, and a few dark spots on Mars. Uranus and Neptune are bluish dots, and Neptune's lone large moon, Triton, is faintly visible under good conditions.