The C8 Optical Tube
The C8 is Celestron's oldest mass-produced telescope, having debuted in 1970. Other than small changes to the manufacturing and coating processes, the C8 has hardly changed since then. It is an 8" Schmidt-Cassegrain with a focal ratio of f/10 and a focal length of approximately 2032 mm. Its 8" of aperture is enough to show you deep-sky objects and planets with a fair amount of detail without being too unwieldy, and while 2032mm is a bit of a long focal length for larger objects, it's not claustrophobic like the larger Schmidt-Cassegrains in Celestron's lineup. The current crop of C8 OTAs are also equipped with Fastar/HyperStar compatible secondary assemblies. Being a Schmidt-Cassegrain, the C8 requires occasional collimation, but not nearly as often as most Newtonian reflectors.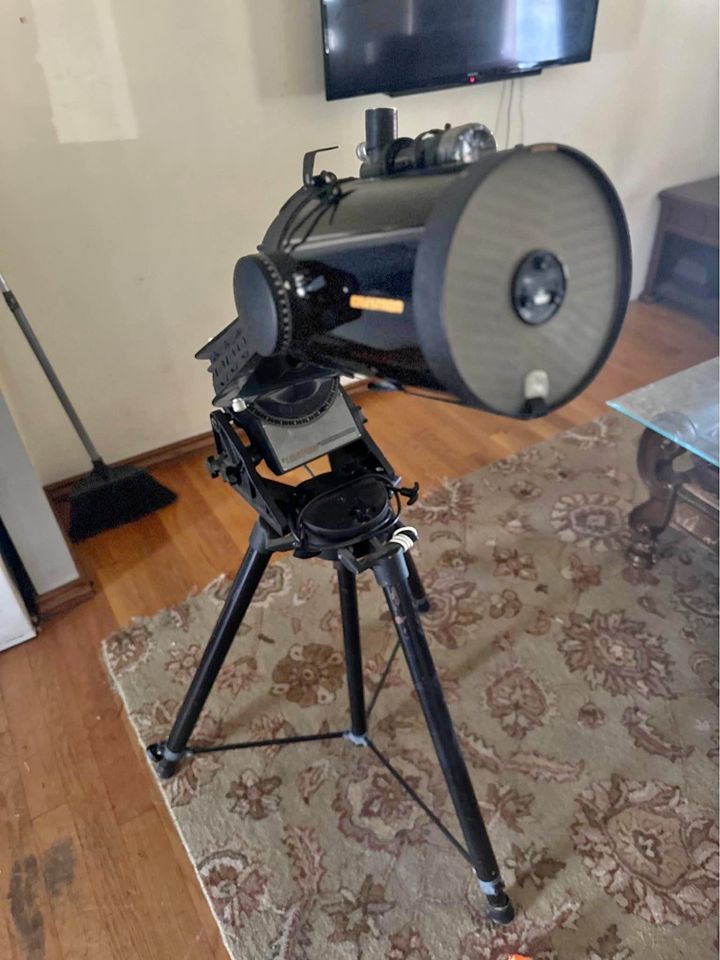 Altogether, the C8 weighs about 13 pounds and is about 17 inches long. This means it'll work on a variety of different mounts and fits in a very small space such as a large backpack, suitcase, or dedicated carrying case. It uses a standard Vixen-style dovetail bar to attach to mounts.
Using the Advanced VX Mount for Visual and Imaging
The Advanced VX is Celestron's cheapest GoTo equatorial mount. It has a 30-pound stated payload capacity and roughly 40,000 objects in its internal database (most of which are either stars or simply invisible to most telescopes). Setting it up and polar aligning it is a slightly more involved process than setting up and polar aligning a standard alt-azimuth GoTo mount. However, the Advanced VX's equatorial design allows one to do long-exposure astrophotography. The AVX comes with Celestron's standard NexStar+ hand controller (the variant for equatorial mounts). The NexStar+ hand control has a database of over 40,000 objects, including the entire Messier, Caldwell, NGC, and IC catalogues.
The AVX can take advantage of nearly all of Celestron's advanced technologies, such as SkyAlign and CPWI (their new software developed in conjunction with PlaneWave), a well as their StarSense AutoAlign, SkySynch GPS, and SkyPortal WiFi add-ons.
The Advanced VX mounting saddle is designed to handle two different styles of dovetail plate. Celestron refers to these as CG-5 and CGE. The CG-5 dovetail plate is pretty much identical to the Vixen-style dovetail, while the CGE dovetail is basically identical to the Losmandy style dovetail plate.
At about 35 pounds altogether, the Advanced VX may sound a little heavy, but it does break into plenty of smaller pieces (the heaviest being the tripod at 17 pounds).
The AVX was designed to be a mount both for imaging and visual observing. For visual observation, the requirements are far less than those needed for imaging. And here, the AVX does pretty well.
When properly set up and aligned, the GoTo's performance and tracking are accurate and reliable. Put an object in the eyepiece and you can expect it to stay there for as long as you intend to look at it. Slew to another object, and, assuming you did a good star alignment, you can expect it to put the object right in the centre of the eyepiece.
Though heavier loads may make it strain and may decrease accuracy, it still generally performs well, definitely good enough for visual use. But in two areas, the AVX is a bit of a disappointment.
The first is backlash, particularly on the declination axis. One of the chief reasons the CG-5 was never a great performer for imaging was the backlash, which could be pretty significant.
Backlash is a problem caused by gears that don't mesh together as closely as they should. This can be due to gears that aren't being held tight together, or gears that aren't properly sized to fit each other. The key symptom is some give in the axis.
While properly meshed gears should remain in contact with each other at all times, when gears aren't properly meshed, there may be some looseness which can result in back and forth wobbling. For visual use, this can be a nuisance but is usually not a problem (though it can decrease the accuracy of GoTo performance). For imaging, it can result in noticeable problems with the stars.
The backlash on the Right Ascension axis in the AVX is definitely better than the previous CG-5 models experienced but still may seem a little high for some users, especially those who need high-precision for imaging. The backlash on the declination axis, however, is a common complaint among users. There are some ways of reducing it, but it's disappointing that Celestron wouldn't have done more in design and manufacture, particularly since this mount is designed with imaging in mind.
Accessories
The Celestron AVX 8 SCT comes with a 1.25" 25mm Plossl eyepiece providing 81x, along with a 1.25" prism star diagonal. You'll almost certainly want an additional eyepiece for higher magnification at the very least, and ideally a 2" diagonal and one or two 2" wide-angle eyepieces as well for the widest possible field of view and lowest useful magnification.
The Advanced VX 8 SCT is supplied with a standard 6×30 finderscope. While a red dot finder would probably be easier to use and is all that is really required, the 6×30 doesn't have any batteries to worry about draining and works fine for the simple task of aligning the GoTo mount.
Alternative Recommendation
Under £800
The StellaLyra 10″ f/5 Dobsonian provides a broader field of view, superior accessories, enhanced light gathering and resolving power, and a considerably simpler setup compared to the Advanced VX 8″ SCT. With the Dobsonian mount, you can enjoy a stable and easy aiming experience, along with a range of included features like a 2″ dual-speed Crayford focuser, wide-angle low-power 2″ eyepiece, and a built-in cooling fan for the primary mirror.
The Celestron StarSense Explorer 8″ Dobsonian delivers views at the eyepiece comparable to the Advanced VX 8″ SCT at a significantly lower price, featuring a lightweight, robust, and portable Dobsonian mount aided by Celestron's StarSense Explorer technology for night sky navigation.
The Sky-Watcher Virtuoso GTi 150P, while smaller and less capable in terms of light gathering and resolving ability than the Advanced VX 8″ SCT, offers a considerably wider maximum field of view, along with greater compactness and ease of setup. It also includes motorized tracking and GoTo, smartphone/tablet control, and the option for manual aiming without affecting tracking accuracy or damaging internal gears. The manual Heritage 150P version is also an excellent pick.
£800-£1200
The Celestron StarSense Explorer 10″ Dobsonian lacks motorized slewing and tracking but features Celestron's StarSense Explorer technology, which aids night sky navigation using your smartphone. Easy to set up in minutes, this lightweight telescope is simple to carry thanks to its optimized base and carry handles. However, it has limited accessories and features, so other 10″ Dobsonians may be a better option if these are important to you. The 8″ StarSense Explorer model is available at a lower price, but the 10″ model is recommended for its similar weight, volume, and ease of use.
The Celestron NexStar 6SE, while smaller than the C8 XLT, offers a portable setup suitable for air travel and backpacking, albeit with limited aperture. With a HyperStar f/2 conversion kit, deep-sky and planetary astrophotography is possible, and the C6 XLT optical tube provides sharp views of brighter targets.
Over £1200
Aftermarket Accessory Recommendations
The C8 XLT/Advanced VX package comes with rather few accessories, and you'll definitely want to purchase several key upgrades and a few additional eyepieces to maximize the performance of this telescope, starting with a dew shield to reduce glare from nearby light sources making its way into the telescope, as well as slowing down frost or dew forming on the C8 XLT's corrector plate and keeping some pollen, dirt, and dust away.
We highly recommend a 2" star diagonal, which allows you to achieve a much wider field of view with the C8 XLT optical tube than is possible with 1.25" eyepieces alone. A screw-on dielectric mirror diagonal is just a bit more crisp than the provided 1.25" prism while also providing a more secure connection between your telescope and eyepieces too.

A 38mm PanaView SWA eyepiece or a similar alternative for 53x magnification enables the widest possible field of view with the C8 XLT and a 2" eyepiece, ideal for sweeping views of large deep-sky objects such as open star clusters. A 16mm UWA (127x) is ideal for medium-high magnification (as is a 15mm redline for 135x if you're on a tight budget), while a 10mm UWA or 9mm redline (203x or 226x) provides the maximum magnification atmospheric conditions will typically allow. If you frequently have exceptionally steady seeing conditions, a 7mm UWA or planetary eyepiece (290x) might also be worth picking up.
A UHC nebula filter can screw onto your eyepieces (or a 2" to 1.25" adapter) and provides improved views of nebulae with the C8 XLT; while the scope's limited field of view isn't ideal for huge objects like the Veil Nebula the filter helps on objects like Orion or the Crab Nebula, improving contrast for more detail which is particularly helpful under light-polluted conditions.
The Advanced VX lacks a polar scope by default, making rough polar alignment using the hole in the polar axis both inaccurate and problematic for extended observing sessions or any kind of astrophotography, while setting up the All Star Polar Align is fairly time-consuming. To remedy this issue, the default polar scope from Celestron works just fine. Moreover, a DC power supply, such as the Celestron PowerTank Lithium, is required to power the mount in the absence of an AC power cord.
What can you see with the Advanced VX 8″ SCT?
The large aperture and moderately long focal length of the C8 make it great for viewing the Moon, planets, double stars, and smaller deep sky objects. Large open clusters and nebulae won't fit in the field of view, but the C8 is great for viewing smaller galaxies like M82 and M51, globular clusters like M13, and planetary nebulae like the Cat's Eye. It'll also have no trouble showing you details as small as a mile on the Moon, Mars' dark shading and ice caps, Mercury and Venus' phases, Jupiter's cloud belts, the Great Red Spot, and, of course, Saturn's rings with the Cassini division in them. Uranus and Neptune are star-like dots, and Neptune's moon Triton can be faintly seen. A plethora of moons surrounds Jupiter and Saturn.
Astrophotography Capabilities
It's also good to keep in mind that a common rule of thumb for astrophotography says that your total payload weight for imaging should be kept to one-half the mount's rated maximum or less. At 13 pounds bare, by the time you load up the C8 with a camera, auto guiding, etc., it is going to be above 15 pounds, which is the most you can really load onto the Advanced VX and expect consistently good performance, especially at a 2032mm focal length. But it will suffice if you keep your exposures short and do a good job with polar alignment and autoguiding. Overall, the C8 works pretty well for deep-sky astrophotography with a DSLR or dedicated astronomy camera if you add an aftermarket f/6.3 reducer to it to shorten your exposure times—and, of course, use an autoguider. You can also convert the C8 to an f/2 system using a Starizona Hyperstar, which will allow you to get more detail with much shorter exposure times and a wider field of view.
When used with a Barlow lens and a high-speed planetary camera, the C8 is also great for taking pictures of planets and the moon.