Explore Scientific's AR102 (not to be confused with the various FirstLight 102 models) has been one of the company's best-selling telescopes since its introduction, and for a good reason – it's a gift that keeps on giving.
The AR102 not only excels at wide-field deep-sky views, but works surprisingly well on the Moon and planets considering that it's a fast achromat. And for the price, what you get is absolutely ridiculous.
If you're shopping for a first telescope, keep in mind that you'll need to buy a mount and additional eyepieces for the AR102 as it is sold as an optical tube only, or buy it packaged with one of Explore Scientific's mount offerings.
Overview Of Explore Scientific AR102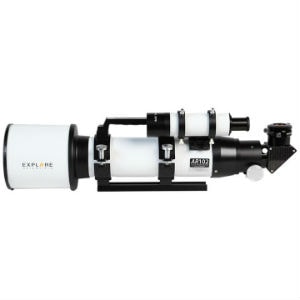 The AR102 is a standard Fraunhofer configuration achromatic doublet refractor, with no special extra-low dispersion glass or anything of the sort – just standard crown and flint glasses. Being a 4" f/6.5, it will obviously have some chromatic aberration as a result. It's basic physics, and you can't avoid it.
While it is still of course distracting, the chromatic aberration of the AR102 is remarkably well-controlled, only really being a problem on the Moon, Jupiter, and of course Venus. With a specialized "minus-violet," "contrast booster," or "fringe killer" filter, the purple halos around these objects will disappear entirely, at the expense of natural-colored views. A cheap yellow filter will also work pretty well in a pinch. I have been quite surprised by the sharp, high-resolution views these fast, relatively inexpensive achromats can deliver.
The scope's lens cell is collimatable, should that ever be a necessity. The objective itself is fully multi-coated – which is to be expected with any decent refractor nowadays.
One of my main criticisms of the scope's design is that I don't particularly like the huge width and short length of the dew shield – by being super fat it is less portable and the dew shield itself is less effective, and the short length further hampers its usefulness. Also, at least to me, it looks kind of dumb.
The AR102's focuser is a nice, high-quality dual-speed Crayford – by itself easily worth ⅓ of the price of the entire telescope, and certainly, overkill for a scope that's meant primarily for low-power wide-field views. It works very well. You could swap it out for a Moonlite or Feathertouch, but one of those units plus the necessary adapters would be approaching if not exceeding the price of the AR102 itself.
The AR102's tube cradle is well-made, lined with felt inside the rings, and it comes with a nice carry handle on the top, as well as a standard aluminum Vixen dovetail on the bottom for attaching the telescope to most modern alt-azimuth and equatorial mounts.
Reviewing the Accessories
The finderscope supplied with the AR102 is a rather inexpensive 8×50, with an upside-down image and a somewhat narrow field of view. It's not my favorite, but it's more than sufficient. Swapping it out for a different is a bit of a pain, as only Meade and Explore Scientific finders will fit the AR102's non-standard finder shoe. Explore Scientific sells a very nice 50mm right-angle correct-image finderscope, which although expensive is probably what I'd recommend if you still want a finderscope and not a red dot unit or reflex sight.
The AR102 also comes with a 99% reflective, dielectric mirror diagonal with a compression ring adapter and a carbon-fiber body. This is a very nice diagonal that is identical to the one supplied with Explore Scientific's far more expensive telescopes, and there are only a handful of uber premium diagonals on the market that are objectively better, none of which I really consider worth the money.
Sometimes, particularly around the holidays, Explore Scientific throws in a 25mm, 70-degree wide-field eyepiece for free bundled with the AR102. Providing 26x and a true field of 2.7 degrees, it's more or less perfect for a low-power, rich-field telescope. However, while the 25mm 70-degree is a pretty good eyepiece, it doesn't perform quite as well at the edge of the field of view as Explore Scientific's more expensive 68-degree and 82-degree oculars.
Like all Explore Scientific products, the AR102, and its accessories come with the ExploreSTAR lifetime transferable warranty.
A Closer Look at the Mounting
The AR102 is available bundled with Explore Scientific's Twilight I mount, which is an ideal manual alt-azimuth mount for the job if a little on the light-duty side. The Twilight II is rock-solid with the AR102, but is much heavier and doesn't have any slow-motion controls, in addition to being more expensive.
If you're interested in equatorial tracking for visual-only use and don't want the complications or expense of GoTo, the Celestron CG-4, Meade LX70, or Orion SkyView Pro will work fabulously. You can also buy a GoTo equatorial mount such as the Celestron Advanced VX, Explore Scientific's own EXOS-2, the Meade LX85, or the Orion SkyView Pro or Sirius.
Astrophotography Performance of the Scope
Chromatic aberration tends to be far more pronounced in images compared to how it looks visually. As a result, serious photography of the Moon and planets with the AR102 isn't really worthwhile and I certainly don't recommend it. An inexpensive 4-5" Maksutov or 6" Schmidt-Cassegrain will do better than the AR102 and won't require stacking Barlow lenses to achieve the necessary focal length (which also degrades image quality).
You can get usable deep-sky results with your DSLR and the AR102 on an EQ5-class equatorial mount like the ones I just mentioned, or even a motorized CG-4/LX70/SkyView Pro. Just don't set your expectations high, and keep in mind that decent, smaller 70-80mm apochromatic refractors are available for the same price as the AR102 and will do a far better job for astrophotography.
All in all, the AR102 is really a telescope meant for primarily visual use, and certainly not an astrograph of any sort.
Final Verdict
If you are shopping for a wide-field deep-sky telescope for visual use that can also do double duty on the Moon and planets, I highly recommend the Explore Scientific AR102 just like this AR102 review has established. It's sharp, the chromatic aberration is quite low for an f/6.5 achromat, the accessories included are great, and the value is unmatched.