The Meade ETX-90 Observer is a 90mm GoTo Maksutov-Cassegrain. The ETX-90 has been around in some form since 1996, gradually gaining more computer features as time goes by. The Observer is the newest model, featuring Meade's AudioStar controller and a redesigned fork mount. While not an absolutely terrible instrument in of itself, the ETX-90 Observer just isn't something we'd recommend for a number of reasons.
Optical Performance Overview of ETX 90
The ETX-90 is a 90 mm Maksutov-Cassegrain with a focal length of 1,250 mm, which is identical to the Questar 3.5 and Celestron C90.
The ETX-90 has always performed well optically, and the Observer is no different. Unlike earlier models, the focus knob is ergonomically pleasing, big, and it suffers from far less image shift (when the primary mirror flops around when focusing).
Like all ETX versions and the Questar, the Observer has a built-in flip mirror mechanism, which is basically a built-in star diagonal that flips out of the way for a rear port to attach a DSLR camera or a correct image prism for daytime terrestrial viewing. The flip mirror is basically a cheap gimmick and if it doesn't line up exactly with the optical axis of the telescope it makes the views less-than-sharp.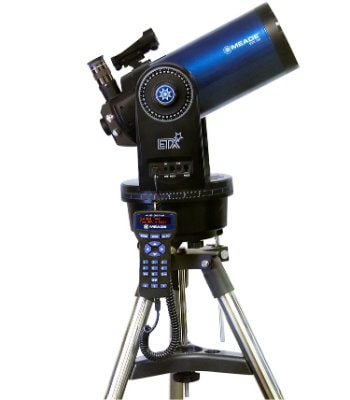 The ETX-90EC features UHTC coatings which allow you to get the lightest grasp out of the scope's 90 mm aperture. However, it is still a 90 mm telescope. You are simply not going to get much out of it deep sky-wise. The ETX-90 – or any 90mm Maksutov – is built as a convenient, grab n' go scope, or for things like daytime spotting and target shooting – all of which are functions made difficult to accomplish by the cumbersome computerized fork mount.
Unlike previous ETX models, the ETX-90 can be easily removed from its mount without tools and features a Vixen-style dovetail and ¼ 20 screw sockets – allowing you to attach it to any mount with a Vixen saddle or any photo tripod. This makes the scope a lot more convenient and much more suitable for terrestrial applications. However, if you plan on using the ETX more off the mount than on it, you might as well buy a C90 at a fraction of the cost and do away with the expensive computerized forks.
Does the Mount Sucks?
The mount for the ETX-90 Observer is a computerized alt-azimuth fork design that runs off Meade's AudioStar. The AudioStar is a primitive controller similar to the AutoStar apart from an additional feature that allows it to speak to you, which you will probably never actually end up wanting to use. The whole mount has a lot of plastic gearing and it's really quite bulky, unable to fit in most backpacks unlike previous iterations of the ETX. It's also rather unnecessary on the whole, as the ETX-90 is pretty limited in what targets it can show you due to its small aperture and long focal length.
The ETX-90's mount also consumes a lot of power. Inserting 8 AA batteries will likely give you one or two nights of observing before the scope drains them. Some sort of reusable/rechargeable battery or power supply is required for the ETX in the long run unless you can run it off AC power exclusively.
The ETX tripod's built-in wedge has no fine altitude or azimuth adjustability, so consider it worthless.
Accessories
The ETX-90 Observer comes with a 26mm Plossl for low power (48x) and a 9.7mm Plossl for high power (129x). These eyepieces are acceptable, but not great. They have a lot of plastic in the construction, the 26mm has less eye relief than it really should, and the 9.7mm is rather uncomfortable to look through. Aligning the ETX's mount with the sky is accomplished with the included red-dot finder, which is really all you need on a 90mm telescope.
The scope also comes with a small bubble level/compass meant to sit on the accessory tray – though it also works as a backup eyepiece-end dust cap, as it fits the scope's 1.25" port.
Should I buy a Used ETX-90 Observer?
Unless it's offered at a very low price, a used ETX-90 Observer is still likely a waste of money. Older ETX models will offer you the same features at a lower price tag and in a more compact form factor if you must have one.
Alternative Recommendations
There are multiple larger, better, and often cheaper scopes than the ETX-90 Observer, some offering full GoTo capabilities.
The Celestron Astro-Fi 130 offers significantly more aperture than the ETX-90, a wider field of view, and a better control mechanism in the form of your phone or tablet.
The Celestron Astro-Fi 102 is a Maksutov like the ETX, but with a bit more aperture and the same user-friendly control system as the Astro-Fi 130, at a lower price tag to boot.
An 8" Dobsonian like the Apertura AD8/Zhumell Z8/Orion SkyLine 8 offers more than double the aperture of the ETX-90, allowing you to see far more targets.
Aftermarket Accessory Recommendations
The ETX-90's included eyepieces are not the best, but will suffice for the most part. Better eyepieces like the Explore Scientific 82-degree series or Baader Hyperion would be nice, but probably aren't worth the huge expense. A 32mm Plossl eyepiece will give you a bit lower magnification (39x) and a wider field of view than the stock 26mm, and it's the main additional eyepiece we'd recommend for the ETX.
A dew shield will keep stray light and moisture out of the telescope, preventing condensation from forming on the corrector plate and reducing glare, and a small rechargeable power supply will allow you to forget about running out of AA batteries as well as save you money in the long term if you use the scope frequently.
What can you see?
The ETX-90 Observer is primarily a lunar and planetary scope. Its long focal ratio makes it easy to focus and allows you to get high magnifications with longer focal length eyepieces than a "faster" scope will. With the ETX-90 Observer, you'll have no trouble seeing:
Mercury and Venus' phases
Details just a few miles/kilometers across on the moon
Mars' ice caps
Jupiter's moons and cloud belts
Saturn's rings and its brightest moon Titan
Uranus and Neptune, which will look like little more than blue dots
With some effort, you'll also be able to spot:
A few dark spots on Mars, corresponding to dark patches of sand that sometimes change in size and shape
The Great Red Spot on Jupiter, along with the shadows of its moons when they transit the planet
Saturn's cloud belts
The Cassini division in Saturn's rings
Saturn's other moons, including Rhea, Tethys, and Dione
The ETX-90's performance on deep-sky objects is lackluster, to say the least. Even the brightest galaxies, such as Andromeda or M82, will show little in the way of detail unless you can access dark skies – and even then, don't expect much besides a dust lane or two. You simply won't be seeing the spiral arms of M51 or M33, or resolving stars in globular clusters, no matter how good your viewing conditions are. Many open star clusters are easily spotted with the ETX-90 Observer, but its narrow field of view makes them less than impressive. The Orion Nebula and Lagoon Nebula will look surprisingly good if you get away from city light pollution, but only a fraction of the magnificence that a 5", 8" or larger aperture telescope will show you.
Pros
Portable
Maks need little or no maintenance
OTA is of high quality optically
No collimation needed
Works good as an astronomical and spotting scope
AutoStar GoTo computer system
Cons
Confusing instruction manual
Ridiculously expensive for what you get
GoTo is pointless, rarely functions, consumes battery power, and is plain loud and obnoxious
Everything is plastic, even the eyepieces
Tiny aperture
Narrow field of view
Poor accessories
Bulky