Meade's StarNavigator NG 102 is typical of the more inexpensive computerized telescope offerings available from Meade, Celestron, and other manufacturers. Unfortunately, its high price tag puts it in a category where there are far better options available – with steadier mounts, better accessories, and of course lower prices.
The StarNavigator NG 102 is tied for most expensive scope in the lineup with the 127mm Maksutov model. Other scopes include a 90mm Maksutov, a 90mm refractor, a 114mm Bird-Jones (AVOID!) and a 130mm Newtonian reflector with questionable optical quality.
All of the StarNavigator NGs feature the same (flawed) mount and accessories, so if you're thinking about buying any of them we suggest reading this review.
The StarNavigator NG 102 Achromatic Optical Tube
The StarNavigator NG 102 is a 102mm f/6.5 Fraunhofer achromat with a 2" focuser. If this sounds familiar and if the scope looks familiar, it's because it's basically the same as Meade's Infinity 102, except half an f-stop slower and with metal, anodized blue dew shield instead of a black plastic one. The functional improvement of this dew shield is basically zero. However, it gives the scope a nicer appearance. The StarNavigator NG OTA attaches to the mount with a metal Vixen dovetail bar for quick and easy setup as well as compatibility with other mounts.
The optics in the StarNavigator 102 are pretty good. At f/6.5, there's quite a lot of chromatic aberration, but just little enough that lunar and planetary views are still alright. The scope's 2" focuser is all-metal and has no problems holding a heavy eyepiece – though balancing the telescope with a heavy 2" diagonal and eyepiece may be difficult due to the short dovetail bar.
About the Accessories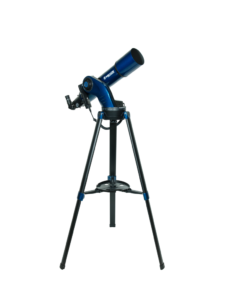 The StarNavigator 102 comes with two eyepieces: 26mm & 9mm Modified Achromats (MAs) providing 25x and 73x respectively, a red dot finder, and of course Meade's 1.25" plastic Amici prism diagonal.
The MAs are okay, but for a scope costing over £400 they should really be supplying Plossls. The MAs are mostly plastic in construction, have a simple 3-lens design and inexpensive coatings, and the field of view is only about 45 degrees. They work, but a Plossl or wide-field design would be a huge upgrade.
The red-dot finderscope included with the StarNavigators is cheaply made and is basically entirely plastic. I would've liked something better, even though this finder's sole purpose is lining up the AudioStar GoTo system during setup.
The included Amici prism diagonal is the weakest link with this telescope. It's almost entirely plastic, the prism is cheaply made, and the Amici design results in annoying diffraction spikes on bright objects and some loss of sharpness. The inexpensive coatings also result in some light loss. These diagonals are made so Meade can market their refractors for terrestrial use, which they oddly do not do with the StarNavigators. A quality 1.25" star diagonal, either a prism or dielectric unit, is a must for serious viewing with the StarNavigator NG 102.
Reviewing the StarNavigator NG Mount
The StarNavigator NG mount is an improved version of the original StarNavigator. It now features the AudioStar controller, which provides information to you about each object as you observe. You can read our review of the AudioStar (as well as Meade's Autostar) here.
To me, AudioStar interface feels rather antiquated compared to Celestron's NexStar controllers or of course operating a telescope via a smart device, but it does work fine. However, the audio feature is not really necessary and if you're observing in a suburban neighborhood or at a star party it will probably annoy people. I would've rather Meade just used the regular Autostar and sold the scope at a lower price.
It's rather minor, but the holder for the AudioStar hand controller that attaches it to the tripod when not in use is rather crude. I would've appreciated something that secures the hand controller a little better.
The StarNavigator mount is not very steady. With thin, crescent-shaped legs made of aluminum, it wobbles, especially with a larger scope like the 102mm f/6.5 refractor optical tube. It is not acceptable for a telescope of this price to have such a cheap mount, period. And a good scope is of no use without a sturdy mount to support it.
Final Verdict
If Meade priced the StarNavigator NG 102 at, say, £300, I'd be far more accepting of its flaws. But with a price tag big enough to buy you an equally large if not larger computerized telescope from another manufacturer with quality construction and accessories, there's really no reason for me to recommend buying it. It's a shame because the optical tube is pretty nice. But as it is, the scope is a rip-off for what you get for the money.