The Optical Tube Performance Of Astroview 90mm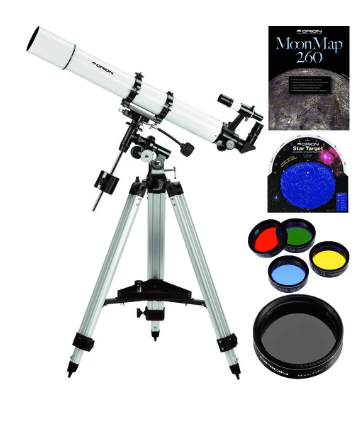 The AstroView 90 is a 90mm f/10.1 achromatic doublet, using crown and flint glass in the standard Fraunhofer configuration. As a result of the f/10.1 focal ratio, it does have some easily visible chromatic aberration, but not enough to impact the sharpness of the views by a measurable amount.
The optics in the AstroView 90 are exceptionally good – a cut above a lot of the cheap achromatic refractors. I have been impressed by the views through these scopes. The AstroView 90 is also well-baffled and has decent interior paint, along with an ample-length dew shield. Stray light and glare are not issues.
The focuser on the AstroView 90 is a 1.25" rack and pinion unit made largely of metal, but with plastic knobs. I don't like these knobs because they kind of dig into your fingers, but they continue to persist on a lot of scopes for whatever reason. The OTA has absolutely zero plastic parts besides these knobs.
Like a lot of equatorially mounted, inexpensive scopes seem to, the AstroView 90 has a captive ¼ 20 threaded knob on one of the rings to allow for piggybacking a DSLR camera. Forget using this, though, because the EQ2 mount supplied with the scope cannot handle the weight of a DSLR added on top of the scope.
About the Accessories
The AstroView 90 comes with two eyepieces: A 25mm Plossl supplying 36x and a 10mm Plossl supplying 91x, both branded as part of Orion's "Sirius" line (in reality, they are identical to pretty much every good Chinese or Taiwanese Plossl sold on the market, as all are made in the same one or two factories). These are of high quality and you don't need to really replace them, but a 6mm "gold-line" will allow you to get the most magnification the scope can handle and a 32mm Plossl will allow for a slightly wider field of view and lower magnification than the 25mm.
The AstroView 90 has an inexpensive 6×30 finderscope. This does work, but it is often uncomfortable to look through and doesn't have particularly bright images. A red dot would've been preferable, as you really don't need anything more for a 90mm telescope targeted at beginners.
The AstroView 90's star diagonal is a metal, regular 90-degree prism unit which is of high quality, unlike the cheap, plastic Amici prism diagonals supplied with a lot of other cheap refractors meant to allow for terrestrial viewing, which produce a fuzzy image and diffraction spikes on bright objects.
How Good Is The EQ2 Mount?
The AstroView 90 comes on a fairly generic EQ2 mount, simply referred to by Orion as the EQ2. The EQ2 mount is adequate for a 90mm f/10 refractor, but it is definitely on the lean side. It really has no extra capacity for piggybacking a camera.
The AstroView 90 optical tube and EQ2 lack any sort of dovetail system – the rings bolt directly to the mount. As a result, dismantling and transporting the scope is a bit of a pain because either a) you have to leave the rings on, or b) you have to dismantle it using tools. Neither option is particularly convenient nor appealing.
The EQ2's tripod is thin-walled extruded aluminium, designed to be as lightweight as possible. Unfortunately, this stuff tends to be flimsy and easily damaged. The tripod also has a lot of plastic components, again adding to the overall flimsy feeling to it.
The mount head is all metal and comes with flexible slow-motion control knobs, and I like it. It just feels (and in fact simply is) a little small for the 90mm refractor optical tube.
The EQ2 mount can be upgraded with a single-axis or dual-axis motor drive for hands-free battery-powered tracking, but its limited extra weight capacity means there is no way you can piggyback a camera on top of the OTA.
Should I buy a Used AstroView 90?
Absolutely! There's little to go wrong with a used manual refractor – just make sure the optics have no cracks or chips and be mindful that you might have to clean the scope.
Aftermarket Accessory Recommendations
The only significant accessory we think is necessary for the AstroView is a 6mm "goldline" for 150x magnification, which is about the limit that the telescope is capable of. You could perhaps buy a 32mm Plossl to squeeze just a bit more of a field of view out of the telescope and slightly lower magnification (28x), but it's doubtful how much you really need it. Lastly, Orion sells a motor drive for hands-free, automatic tracking and push-button slow motion on the right ascension axis. Whether you need this is up to you.
Observing
Where the AstroView 90 really excels is on the Moon, planets, and double stars. It's able to split doubles as close as 1.3 arcseconds apart, and show lunar details as small as 3 miles across. The phases of Mercury and Venus are no problem, and you should be able to see the ice caps and dark shading on Mars when it's close to Earth for a few months out of every 2 years. The AstroView will also have no problem revealing Jupiter's cloud belts, Great Red Spots, and 4 large moons – and you might just be able to make out their tiny disks and shadows as they transit and eclipse the planet. Saturn's rings and a few moons are visible, and with effort, you can spot the Cassini Division within the rings and perhaps the low-contrast cloud banding on Saturn itself. Uranus and Neptune will be dim, hard-to-find starlike dots with hints of bluish colouring.
The AstroView 90 can show you a fair amount of star clusters, a handful of galaxies, and of course the Orion Nebula. Just don't get your expectations too high about any deep-sky views, as most objects are going to appear fuzzy and dim, particularly due to the scope's small aperture.
As to astrophotography, the scope's small size, long focal ratio, and somewhat undersized mount limit you to smartphone shots of the Moon and maybe the planets.