The Orion StarBlast 62mm Compact Travel Refractor Telescope (which, despite the name, has nothing in common with Orion's StarBlast reflectors) is one of the most unusual offerings by Orion currently. The StarBlast 62 is a great telescope for spotting and casual astronomical use, as well as some astrophotography, but it does have some limitations.
Overview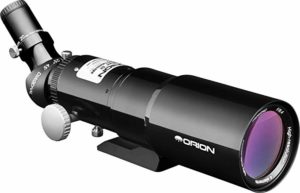 The StarBlast 62 optically is a 62mm f/8.4 Petzval apochromatic refractor, made by Long Perng Optical who are renowned for their quality refractors. Petzvals are relatively uncommon today due to the availability of aftermarket field flatteners and relatively cheap ED glass making them rather irrelevant, but they are still nice scopes.
The Petzval design uses a long-focus achromatic (non-ED) objective lens in conjunction with a focal reducer/field flattener. The result is that the StarBlast 62 has very little chromatic aberration and basically no field curvature, making it extremely sharp at both low and high magnifications as well as being suitable for astrophotography. However, it is still inferior to a real ED doublet refractor with a separate field flattener coupled to the scope.
The scope's dew shield is retractable to fit the scope in its case. Unfortunately, the lens cell is not collimatable as a Petzval should be, which is a bit disconcerting.
The focuser on the StarBlast 62 is a rotatable single-speed 1.25" Crayford. While a dual-speed would be preferable, this focuser is certainly more than adequate for visual astronomy. While there's no finderscope or bracket for one on the StarBlast 62, the focuser has two threaded holes where you could attach a standard finder shoe.
The StarBlast 62 comes with two Long Perng "Sterling" Plossl eyepieces, with 20mm and 4mm focal lengths providing 26x and 130x respectively. The Sterling Plossls are spectacular for the price and easily go head-to-head with my Tele-Vue Plossls in sharpness. However, the 4mm has such a small eye lens and such short eye relief that it is nearly impossible to look through. To get the most out of the scope you'll definitely want other eyepieces.
The StarBlast 62 comes with a high-quality 45-degree erecting prism diagonal. While it works very well, for astronomical use a true 1.25" 90-degree star diagonal will prove to be more comfortable and provide better images.
The StarBlast 62's aluminum, the foam-lined case is of high quality and does a good job protecting the scope and any accessories. However, it's not the most volume-efficient option – if you're planning on flying with the scope, putting the tube in a smaller case and transporting the accessories separately is probably a better option.
The StarBlast 62 has a permanently attached Vixen dovetail plate which will allow you to attach it to any compatible mounts, and the plate has a threaded ¼ 20 hole for using the scope on a photo tripod. For spotting use and casual astronomical viewing, a quality photo tripod and head with smooth motions are really all you'll need, though you could put the scope on a Porta II, Twilight I or similar alt-az mount if you feel a reason to do so.
Due to its 1.25" focuser, the StarBlast 62, unfortunately, will not work with some astro-imaging cameras or full-frame DSLRs due to the vignetting that will result. However, it comes with a T-adapter to use with a DSLR and many smaller-chip cameras should have no issues with the scope.
While there are more effective astrophotography scopes in its price range with better focusers and/or more aperture, the StarBlast 62 is no slouch for a beginner astrophotographer. The scope's Petzval design and resulting flat field mean sharp images across the entire frame. However, the lack of dual-speed focusing nor a 2" drawtube will limit you later on, as does the lack of an easy method to attach tube rings or a guide scope. The scope was simply not designed with serious long-exposure astrophotography in mind.
In Use
The StarBlast 62's small aperture is quite limiting when it comes to viewing. You can see plenty of lunar detail, the cloud belts and moons of Jupiter and Saturn, the phases of Mercury and Venus, and maybe some detail on Mars if you're lucky. Deep-sky objects, even the brightest ones, are going to resemble fuzzy smudges with little to no detail – with the exception of some star clusters. The StarBlast 62 is not a serious observer's scope – it's the kind of thing you stargaze with for 20 minutes before packing up or moving on to something bigger.
Final Verdict
All in all, while I don't dislike the StarBlast 62 and it is certainly a nice scope, I would definitely recommend examining other ED/apochromatic refractors in its price range, and I would also like to say that none of these are beginner's scopes. If you're a beginner, a scope with at least 100mm/4 inches of the aperture is really the minimum size that can show you a lot of interesting stuff. The StarBlast is really best as a "grab n' go" telescope to be used alongside a larger instrument, not an observing tool on its own.