The Optical Tube Performance Of Orion Skyquest XT 4.5 Astro
The XT4.5 is a 114mm f/7.89 Newtonian reflector, optically identical to the Celestron PowerSeeker 114 scopes. However, the XT4.5's tube boasts a superior mounting and accessories, which allow you to get the most enjoyment possible out of it.
Compared to the shorter tabletop telescopes like the Meade Lightbridge Mini, Orion StarBlast, AWB OneSky and Zhumell tabletop Dobsonians, the XT4.5 offers vastly higher collimation tolerances, and slightly sharper images thanks to its longer focal ratio. Furthermore, you won't see any coma at the edge of the field of view like with faster reflectors. The 910mm focal length also makes achieving high magnifications possible without super short focal length eyepieces or a Barlow. If you are especially interested in observing the Moon and planets the XT4.5 definitely has an edge.
However, keep in mind that the scope's 910mm focal length means your maximum true field of view (achievable with a 32mm or 40mm Plossl, for instance) will only be about 1.8 degrees, compared to about 3.6 degrees with a 4.5" f/4 scope like the StarBlast, Mini 114 or Z114. This is important if you are concerned about being able to find things easily, or wish to view very large star clusters and nebulae. The focuser on the XT4.5 is a standard plastic 1.25" rack-and-pinion unit. You can't really swap it out for a 2" focuser, so a 1.8 degree field is the absolute widest you can get.
The scope has a small knob on the front of the tube so you can grab it and use it as a lever to move the whole scope around. Personally I find the knob too small for my hands but kids will love it. There's also a convenient carry handle bolted to the tube which I wish was on the larger XT models.
About the Accessories
The XT4.5 comes with two Sirius Plossl eyepieces: a 25mm (36x) and 10mm (91x).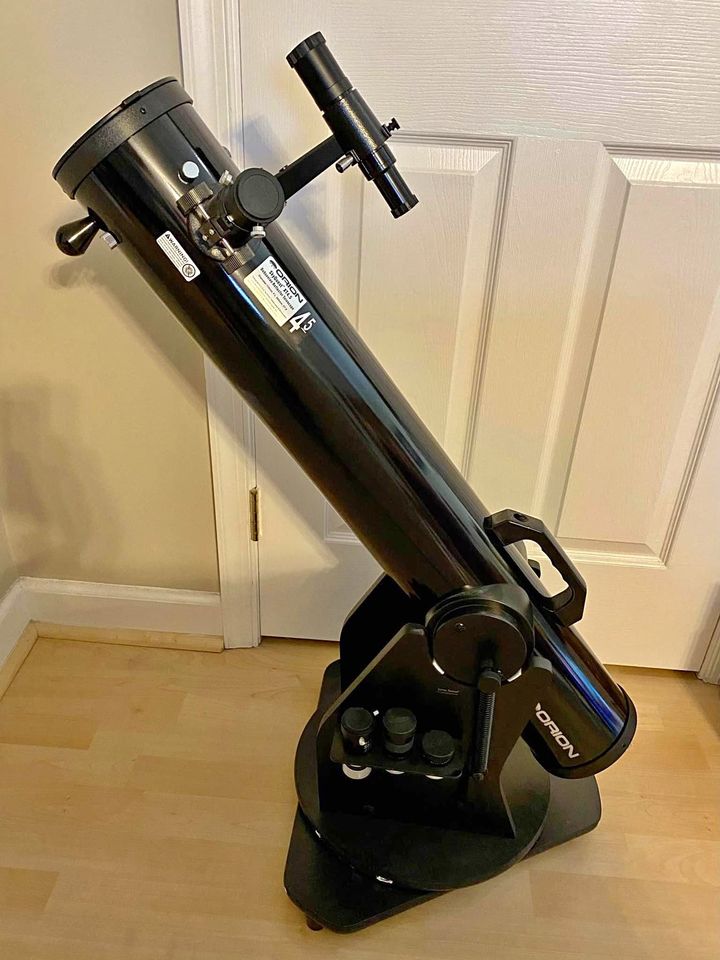 or higher magnification you could probably get a lot out of a 6mm "goldline" planetary eyepiece (for 150x) but the stock 10mm Sirius is good to start out with. A wider field of view can be achieved with a 32mm Plossl eyepiece (sold separately). A collimation cap is included as well.
The XT4.5 also comes with a 6×26 erect-image finderscope. This finder is the weakest link of the entire telescope. While significantly better than a plastic 5×24 like the ones oft-supplied with cheap starter telescopes, the Orion 6×26 just doesn't have enough aperture to be useful and the already-dim image is dimmed further by the erecting prism in the finderscope. A red dot finder, while not ideal, is a much more useful finder for the job.
You can buy the XT4.5 with a kit that also includes a 2x Barlow, a cheap red flashlight, a Moon map, a planisphere, and an observing guide. These are all mildly useful at best and you would probably be better off buying a dedicated flashlight and short focal length eyepiece separately.
Reviewing the XT4.5 Mount
The XT4.5 comes on a spring-tensioned Dobsonian mount which is basically just a miniature of the mount supplied with the larger XT Classic Dobsonians, using thinner particle board and smaller mechanical components. Assembly is quick and easy – all you have to do is put the base together with the included hex key and set the scope on top, then tighten the springs.
The feet on the XT4.5 are spread out a bit wider than the upper part of the base. This can make it troublesome to fit the scope securely on top of some milk crates and plastic bins; however, it does increase the overall stability of the scope.
Should I buy a Used XT4.5?
If the price reduction compared to buying new is fair, then go for it. Make sure that the mount is not damaged or missing any laminate.
Alternative Recommendations
Being 35" long, the XT4.5's optical tube will not fit in carryon luggage or a backpack like shorter tabletop Dobsonians. If you plan on carrying the scope to your observing site on a regular basis and need it to fit in a bag or suitcase, a more compact telescope like the Orion StarBlast Astro 4.5 or Zhumell Z114 may be a better choice.
Aftermarket Accessory Recommendations
The main items we'd recommend adding to the XT4.5 are a 6mm "goldline" eyepiece for higher magnification (150x) and some sort of better finderscope. For a finder we'd probably recommend a Rigel Quikfinder, or an inexpensive red dot sight due to the XT4.5's small tube, which makes for balance issues with a Telrad or large 50mm finderscope.
What can you see?
The XT4.5 is really optimized for lunar and planetary views. It'll show you details as small as a couple of miles on the Moon, and the phases of Mercury and Venus. When Mars is close to opposition every two years or so, you'll be able to pick out its ice caps and some dark markings. Jupiter's cloud belts, Great Red Spot, and 4 largest moons are easy to spot. Saturn's rings, the gap within them, some faint cloud bands and around half a dozen moons are also visible. Uranus and Neptune are nothing more than tiny, bluish dots.
The XT4.5 is also a superb double star splitter. Even under city skies, there are hundreds of colorful double stars you can split every night with this telescope – though good seeing and darker skies will enable more possibilities.
The XT4.5 is more limited on deep-sky targets than its faster brethren for the reasons previously noted, but it'll still be able to show you bright nebulae like Orion, planetary nebulae like the Ring and Dumbbell, and at least several dozen open star clusters. You'll also be able to spot quite a few globular clusters as grainy round smudges, and – depending on how good your skies are – anywhere between 3 and a few dozen galaxies such as Andromeda, M33, and M82, though keep in mind that you probably won't be able to see much in the way of detail in any of them even with fairly dark skies, simply due to the scope's relatively small