The Optical Tube
The Ursa Major 6″ Planetary Dobsonian is fairly typical amongst non-tabletop 6″ Dobsonians, boasting a 6″ (150mm) f/8 Newtonian with a focal length of 1200mm. This focal length is comparable to that of the majority of 8″ and 10″ Dobsonians available on the market, which is why we often suggest opting for a larger size if feasible, as the handling qualities, magnifications with specific eyepieces, and other aspects are essentially identical.
The Ursa Major 6″ Planetary Dobsonian's focuser is an all-metal, single-speed 1.25" Crayford unit. A Crayford focuser utilises a smooth metal drawtube, positioned against rollers, to smoothly move the eyepiece and accessories back and forth without any gears or increments, ensuring ultra-precise focusing accuracy and little possibility of wear or damage over time. To secure your eyepieces, the focuser also employs a compression ring instead of a screw, a more secure grip with the bonus of preventing your eyepiece barrels from developing bothersome dents and scratches over time. The focuser offers adjustments for achieving the optimal friction level, and it can even be rotated to reposition the knobs if desired. If anything, it could be considered over-engineered.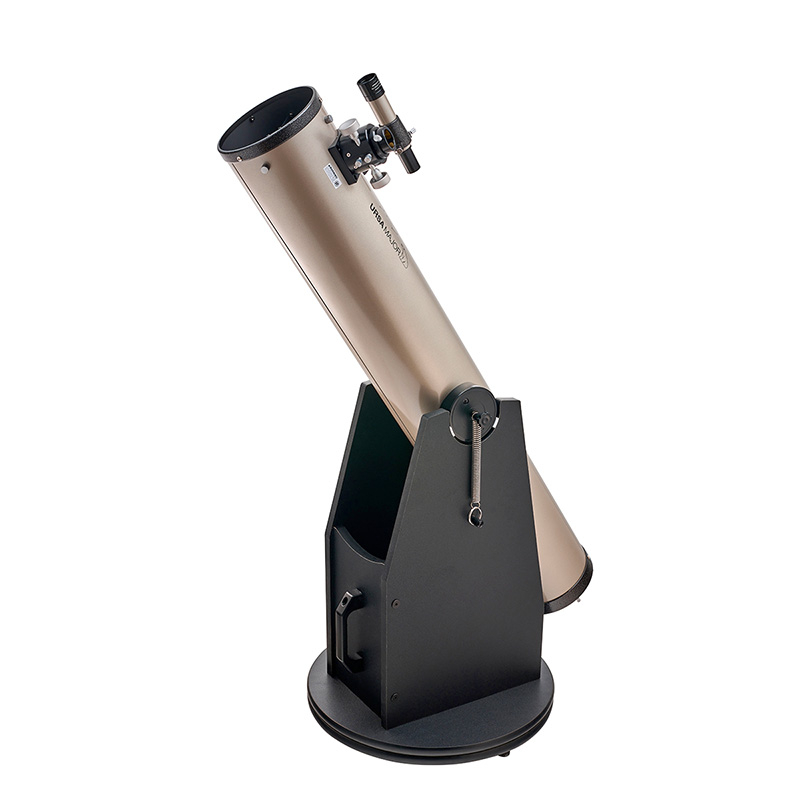 The inclusion of a 1.25″-only focuser may initially seem underwhelming, particularly considering that larger telescopes feature 2″ focusers. However, even if the focuser were suitable, the weight of the eyepiece could potentially disrupt the telescope's balance, and, of course, a high-quality 2″ eyepiece often costs a considerable fraction of the Ursa Major 6″ itself. The only downside is that your maximum field of view is of course a bit more limited.
The Ursa Major 6″ Planetary Dobsonian's primary mirror can be collimated without the need for tools, although the secondary mirror does necessitate the use of a hex wrench. It is advisable not to be tempted to purchase the frequently recommended thumbscrews for the secondary mirror, as you may never need to adjust it, and the thumbscrews merely maintain collimation less effectively over time while offering an irresistible urge to meddle with them whenever possible.
Accessories
The Ursa Major 6" Planetary Dobsonian includes two 1.25" Plossl eyepieces along with a 6×30 finder scope for aiming the telescope at whatever you want to view in the night sky. The included 25mm focal length Plossl eyepiece provides 48x, and nearly the maximum field of view the scope can achieve with a 1.25″ ocular. This eyepiece, made by GSO like the rest of the telescope, is sharp and provides a reasonable 55-degree field of view, decent contrast and glare control, and enough eye relief to be somewhat comfortable for eyeglasses wearers.
Ursa Major's supplied 9mm GSO Plossl eyepiece delivers 133x magnification when used with the 6″ Planetary Dobsonian. It has limited eye relief, necessitating that you place your eye against it to view the entire field of view. With an apparent field of view of about 45 degrees, it is somewhat on the narrow side and definitely feels much more claustrophobic compared to the 25mm ocular, an issue exacerbated by the short eye relief. However, it is adequately sharp and suitable for observing small targets such as the Moon, planets, double stars, globular star clusters, and planetary nebulae, though objects will appear to drift across the whole field of view a lot faster than with a comparable wide-angle eyepiece.
Regarding the finder scope, the Ursa Major 6″ Planetary Dobsonian comes with a 6×30 unit, which features crosshairs and an inverted field of view, appearing upside-down like the view through the telescope itself and a total field approximately 7 degrees wide. This finder reveals stars that are fainter than those visible with the naked eye alone and is technically more precise than a reflex sight or red dot finder due to its magnification. Nonetheless, it can be uncomfortable to use, and the image it produces is not as bright as that of a larger aperture 9×50 finder.
Mount
The Ursa Major 6″ Planetary Dobsonian's mount is fairly typical amongst commercial Dobsonians, consisting of a large slab of particleboard coated in melamine that not only protects the fragile wood composite but also serves as a bearing surface for the azimuth motion. Teflon pads enable predominantly smooth movement in both altitude (up-down) and azimuth (side-to-side) directions. The knock-down particleboard base is assembled using a few included hex wrenches and coated in melamine, acting as a bearing surface that facilitates the telescope's left-right azimuth motion on three small Teflon plastic pads. The telescope pivots up and down on four additional pads and a pair of plastic circular altitude bearings. The motions are impressively smooth. If desired, applying some bar soap to the pads may result in an even smoother motion.
The Ursa Major Dobsonians utilise springs to maintain tension in the bearings and counterbalance potential issues arising from heavy accessories; whilst not perfect, this method is relatively effective. However, attaching the springs can be somewhat tedious and easy to overlook, particularly if the fabric loops used to pull them into place are broken or misplaced.
On the side of the Ursa Major 6″ Dobsonian's base, there is an eyepiece rack, which we would recommend against using, as it is far too easy to inadvertently drop and scratch an eyepiece, kick dirt onto it, or simply leave your eyepieces exposed to dew as they remain out in the open. It can also be easily bashed into the side of the base, causing damage.
Should I buy a Used Ursa Major 6" Planetary Dobsonian?
Before purchasing any second-hand Dobsonian, such as the Ursa Major 6″ Planetary Dobsonian, it is crucial to inspect it for any damage to the mirror coatings or base. Replacing a damaged base with a homemade plywood one is typically straightforward and cost-effective, provided you have access to basic carpentry tools. However, damaged mirror coatings can present a more significant issue. If the mirror appears dull or excessively dusty, it might only require cleaning, but if there is evidence of fungus, chemical corrosion, tiny pinholes which allow you to see through the mirror at any angle, or a see-through appearance to the coating, the mirror may necessitate recoating, which can be expensive. As a result, it is essential to always weigh the cost of recoating the mirrors against purchasing a new telescope before making a decision in such cases.
Dents in the tube of a used Dobsonian are generally not a cause for concern, as they are often unavoidable and typically do not influence the light path. If any dents do affect the optics, they can frequently be removed using tools similar to those employed for eliminating dents on a car or even with a plunger or hammer.
Alternative Recommendations
The Ursa Major 6" Planetary Dobsonian is an excellent choice for its price, but you might want to consider a tabletop 6" or a larger 8" f/6 or even 10" f/5 Dobsonian telescope instead.
Under £325
The Sky-Watcher Heritage 150P Dobsonian provides the same 6" aperture as the Ursa Major 6″ Planetary Dobsonian but in a considerably more compact form factor and with an equally good accessory set. However, it will inevitably require a table to rest on, and a shroud or liner for the exposed tube section. Moreover, the f/5 focal ratio demands high-quality eyepieces and precise collimation. The smaller Heritage 130P shares similar benefits and drawbacks but with a slightly reduced aperture.
The Bresser Messier 6″ f/8 Planetary Dobsonian boasts a 2″ rack-and-pinion focuser, the same 6" aperture as the Ursa Major 6″ Planetary Dobsonian, and great optics.
The Sky-Watcher Skyliner 150P Classic Dobsonian boasts a 2″ rack-and-pinion focuser, as well as a pair of admirable eyepieces and all the advantages and disadvantages associated with an f/8 primary mirror and a full-sized base. The primary drawback is the mount's tendency to encounter balance issues with heavier eyepieces, due to its simplistic friction-tensioning system and undersized bearings.
£325-£550 Range
The StellaLyra 8″ f/6 Dobsonian offers almost twice the light-gathering area and considerably greater resolving power than the Ursa Major 6″, along with an array of features and accessories, including a high-quality dual-speed Crayford focuser, an integrated fan, a right-angle finder scope, and two respectable included eyepieces. It stands on the ground and is easy to aim, thanks to its smooth Dobsonian base.
The Sky-Watcher Virtuoso GTi 150P offers fully motorised tracking and GoTo capabilities, with performance more or less identical to the Ursa Major 6″ Planetary Dobsonian and a collapsible tube shared with the Heritage 150P. It also includes a pair of decent eyepieces to begin with and can be aimed manually, thanks to its FreedomFind encoders, and the GoTo system is operated by your smartphone or tablet using the SynScan app.
The Ursa Major 8″ f/6 Dobsonian's 8″ aperture grants it a considerable performance enhancement compared to the Ursa Major 6″ Dobsonian. Like the 6", it features a pair of Plossl eyepieces and a basic but acceptable 2″ single-epseed Crayford focuser, along with a 9×50 finder scope. While it may not be the most well-equipped or well-designed, it delivers outstanding performance for its modest price.
Over £550
Aftermarket Accessory Recommendations
The Ursa Major 6" Planetary Dobsonian's included pair of eyepieces serve as a solid starting point; however, an extensive range of magnifications is crucial for examining various celestial objects. Before anything else, we recommend obtaining a Cheshire collimation tool, which is indispensable for the Ursa Major 6″ Dobsonian to achieve the sharpest possible views. A 32mm Plossl eyepiece (38x) delivers the maximum field of view possible within the confines of the scope's 1.25" focuser, and is also highly recommended.
For a medium magnification between those provided by the 25mm and 9mm eyepieces, we suggest a 17mm Plossl (71x magnification), or 15mm redline/goldline ocular (80x magnification) for the Ursa Major 6" Planetary Dobsonian. This is an ideal magnification for viewing the Moon, galaxies, and globular star clusters. For even higher magnifications, we recommend a 9mm goldline/redline (133x magnification) to replace the Ursa Major 6" Planetary Dobsonian's provided 9mm Plossl, as it provides significantly longer eye relief, a wider and more immersive apparent field, and superior interior blackening for enhanced contrast and reduced scatter on bright targets. A 2x Barlow lens paired with a 9mm eyepiece for 266x, or a dedicated 4mm or 5mm planetary eyepiece, (300x or a more modest 240x, respectively) will deliver the highest useful magnification with the Ursa Major 6″, provided atmospheric conditions permit it.
Additionally, you may wish to replace the stock 6×30 finder supplied with the Ursa Major 6" Planetary Dobsonian with a zero-power reflex sight finder, such as the Telrad or Explore Scientific ReflexSight. Either option is far more user-friendly and comfortable to look through than the 6×30 finderscope, providing a straightforward illuminated reticle against a window aimed at the sky, making alignment and usage incredibly intuitive.
Lastly, a narrowband Ultra High Contrast (UHC)/OIII nebula filter can significantly enhance your views of nebulae, such as the Orion Nebula, when using almost any telescope, including the Ursa Major 6" Planetary Dobsonian. This filter also improves the visibility of planetary nebulae by diminishing the brightness of surrounding stars, making it easier to locate them at low power.
What can you see?
A 6" telescope is about the minimum you can expect to be able to use for serious viewing of all types of targets, and the Ursa Major 6" Planetary Dobsonian is capable of providing decent lunar, planetary, and deep-sky views. When it comes to observing the Moon and planets, light pollution doesn't have much of an effect, though atmospheric turbulence or "seeing" plays a huge role. For viewing galaxies, nebulae, and star clusters, venturing out into dark skies is essential for the best views with the Ursa Major 6" Planetary Dobsonian or virtually any telescope. Thanks to their relatively high brightness and contrast against even the most washed-out backdrop, this scope is capable of providing excellent views of extensive open star clusters, regardless of light pollution conditions. Among the best of these for observation with the Ursa Major 6" are the Double Cluster in Cassiopeia, Wild Ducks Cluster (M11) in Scutum, and the famous Pleiades cluster (M45) in Taurus.
The Ursa Major 6″ Planetary Dobsonian possesses sufficient aperture to resolve globular clusters, a task which smaller instruments simply cannot accomplish. For instance, M13, M15, M2, and M3 transform from hazy patches to glittering crystal orbs. Each globular cluster exhibits a slightly different shape, noticeable even under mediocre viewing conditions – M15 has a very compact core, M13 has its own dust lanes, M92 is somewhat out-of-round, and so on.
Under dark skies, you'll also be able to discern details in galaxies with this scope. The iconic spiral arms of M51 are faintly resolvable, as are vague hints of similar detail in other spiral galaxies like M101 and M33. M82's dust lanes can be seen, as can the colossal dust lanes of the Andromeda Galaxy, M31, and its two elliptical companions, M110 and M32. The Virgo Cluster of galaxies looks fantastic, and you can observe dozens of its members.
The Ursa Major 6″ also performs admirably on brighter nebulae like the famed Orion Nebula (M42) which shows fantastic detail even under fairly poor conditions, as well as the Trapezium star cluster at its centre. A UHC or oxygen-III nebula filter helps improve the views. There are also numerous planetary nebulae you can see, such as the Cat's Eye Nebula or the Ring Nebula, which can even exhibit bluish and greenish colours as well as beautiful fine details when conditions permit.
Within the Solar System, the Ursa Major 6" Planetary Dobsonian, as the name implies, is a powerhouse. You can observe the phases of Mercury and Venus, though don't anticipate much more than that with any telescope—Mercury is small with low-contrast features, while Venus' surface is shrouded by opaque clouds that seldom reveal much detail. The Moon appears magnificent, and you might find yourself spending hours counting craterlets in Clavius, searching for lunar dome volcanoes, and viewing other fantastic sights such as tiny ridges and valleys or mountain ranges like the Appenines. Mars' ice caps are easily visible at high magnification with the Ursa Major 6", and near opposition, when the planet is closest to Earth, you can also discern dark markings and any occurring dust storms. With some careful observing techniques, Mars' outer moon Deimos can be observed.
A 6″ telescope is sufficient to resolve Jupiter's four largest moons – Io, Europa, Ganymede, and Callisto – as apparent tiny disks. When they transit across Jupiter, their shadows are easily visible. Jupiter itself displays a variety of colourful cloud belts and storms, and you should be able to make out the Great Red Spot as well.
Saturn and its rings appear magnificent with the Ursa Major 6" Planetary Dobsonian, and the Cassini Division within the rings is also visible on a steady night. A few moons, such as Titan, Rhea, and Tethys, can be observed too. Uranus appears as a tiny greenish disk, with its moons likely to be out of reach without more aperture Neptune's moon Triton is just barely visible with the Ursa Major 6" under ideal conditions, though Neptune itself is barely more than a fuzz. Unfortunately, Pluto is well beyond the reach of a 6" telescope owing to its faintness